Samsung's new flagship devices are awaited in several markets. Carriers have already ordered about 20 million units of the new Galaxy S6 and S6 edge.
Samsung Galaxy S6 is the flagship smartphone but the Galaxy S6 edge with curved display sides is catching every phone enthusiast's attention.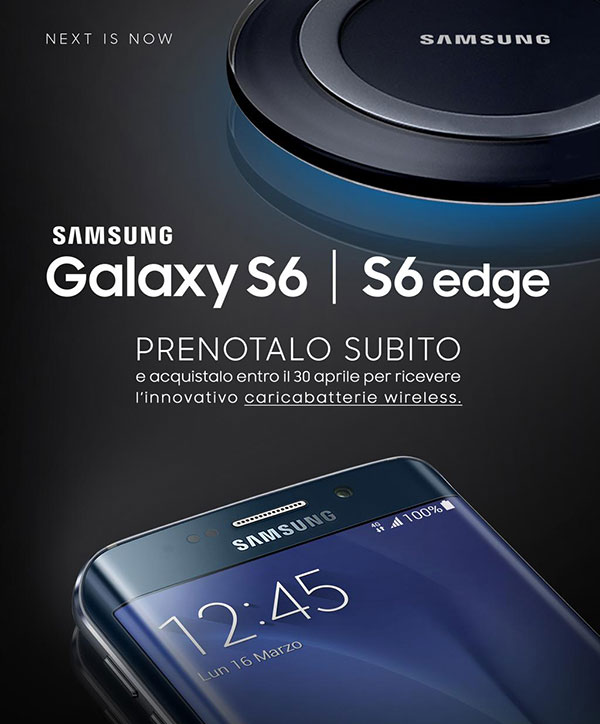 The pre-orders are already available in the UK, Switzerland and Netherlands region. Now Italy will start taking pre-orders from March 16 and will be officially released from April 10. For the Italians, Samsung is also offering Wireless Charger Kit for free.
The 32 GB Galaxy S6 is priced at €700 while the 32GB Galaxy S6 edge is priced at €850 in Netherlands and we expect the pricing to remain the same for Italy as well. Both the phones might also be offered soon with contract but that will happen after April 10.
Source
T
That's the reason for "giving away" chargers in general. The battery doesn't last for eternity. iSheep
K
The Reason why their giving away free chargers for the S6 and the S6 Edge , because the battery doesn't even last long ?!!....( battery 2600 mAh )... so the battery sucks !!! 👎👎
D
hmm. insecure people these days... since they can no-longer pull-down Samsung with the Galaxy S6 much more of the Galaxy S6 Edge, now, what they do is trying to tear-down and will surely try and attempt at their hardest to knockoff GSM-Arena! and I s...
ADVERTISEMENTS