We've seen the three shades of six appeal, but a verified Sprint employee posted a different teaser that shows both the Samsung Galaxy S6 and Galaxy S6 Edge. Tucked into the lower right corner is a text reading "Offer ends 3/26/15" or in other words, March 26.
The whole deal is that you can win one of six Galaxy S6 handsets if you pre-register for the S6 and S6 Edge announcement. It won't be outlandish to think the end of this offer is tied to the actual launch of the new flagship pair.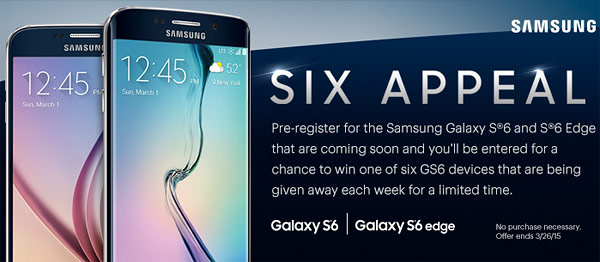 The AT&T teaser was labeled "Spring 2015" and Spring starts on March 21 this year, so things are starting to line up. Before that Itskins, a case manufacturer, revealed it will ship its Galaxy S6 cases on March 15.
So far everything points to a late March launch for the new Galaxy royalty, at least in the west. India will be getting it with a week or two delay in early April (according to a local site).
One date is certain though – the Samsung Galaxy S6 and Galaxy S6 Edge will be unveiled on March 1 at the Unpacked event that starts at 5:30pm GMT. We'll be there live to bring you first-hand impressions, but you can also watch the unveiling with us on Samsung's live stream.
?
Same..nothing different ....samsung contineous to make people fool...starting price 55000/-and after a month passes it will drop at 35000/-....
1
Awesome phone.!! this is gonna be a hit.! Can't wait to buy it. :D
S
So sad, we had really high spects about SGS6, and rises because Samsung make's the prommise that would be a really new kind of smartphone, but there's a kind of mix between samsung old models and iphone, that's really annoying, they even keep the sam...