Galaxy S7 and S7 edge found to sport Sony IMX260 camera sensor, custom audio chip
As you probably know, Samsung finally made the Galaxy S7 and S7 edge official yesterday, following many months of leaks. We've gone hands-on with the two devices, we've taken an in-depth look at the camera they are sporting (paying special attention to the autofocus mechanism), and we've even seen a teardown of the S7 already.
And now we have some new information about the camera which is included in both the Galaxy S7 and the S7 edge. Despite what many rumors had claimed, Samsung hasn't used its own Britecell sensor. This is obvious from the camera's specs, when you consider that the Britecell sensor has 1 micron pixel size, while the S7 duo employs 1.4 micron pixels.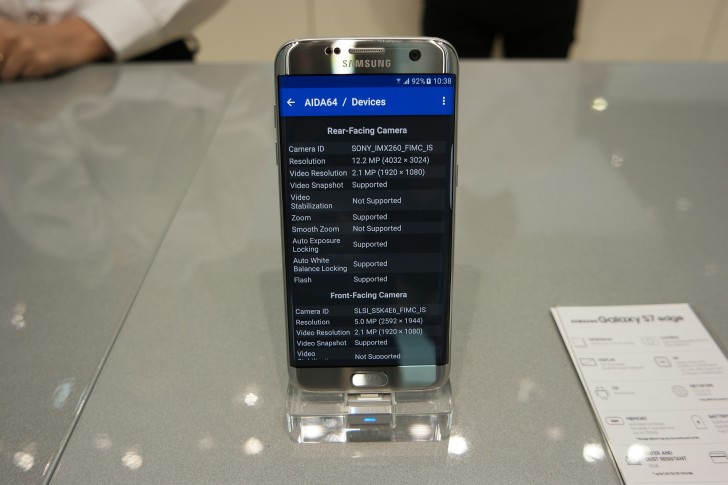 It turns out that the sensor Samsung is using for the S7 models is made by Sony, and its model number is IMX260. This follows in the footsteps of the IMX240 which was used last year in the Galaxy S6 line and the Note5. Both the Galaxy S7 and the S7 edge should use this Sony IMX260 sensor in all markets, which means image quality is going to be the exact same everywhere. Interestingly, the front-facing camera's sensor is identical to the one from 2015's flagships.
On the other hand, it looks like Samsung has developed a custom audio chip for the S7 family. A device info app identifies this as the "Lucky CS47L91 Sound" - and "Project Lucky" was actually the codename for the Galaxy S7. So it could be that this is a custom-made chip by the Korean company. Hopefully it will enable higher-quality audio when compared to past top of the line Samsung handsets.
D
I don't get why you would not trust GSMarenas tests. Most reviews I read, and Im pretty sure that was true for the S6 review as well, mention, the low volume of the headphone output. I have a Samsung K Zoom, on that one they mentioned that the v...
D
You are wrong about the pixel size. Pretty much every competitor has smaller pixels, perhaps even every single competitor. Unless you count old devices, with older pixel tech, and then you cant be to sure that the pixels would perform any better anyh...
D
Dont spread aperture confusion even more. Your comment lacks some information, on what situations the aperture number can't be compared. f1.7 is f1.7. If you look a the center square millimeter, it would capture more light compared to the old sen...