In another round of head-to-head speed tests, the folks over at PhoneBuff have pitted the Exynos-powered Samsung Galaxy S7 edge against the Apple iPhone 6s Plus. The Galaxy S7 with a Snapdragon heart lost miserably the previous time around, but then the Snapdragon vs. Exynos test clearly showed the edge Samsung's chip has.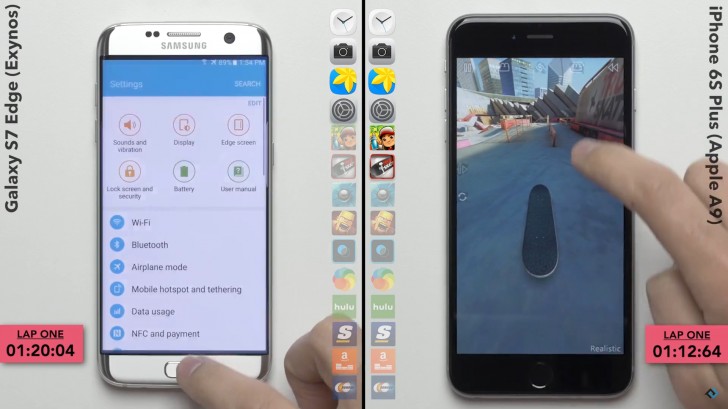 Well, apparently not enough to beat the iPhone 6s Plus. Apple's smartphone still manages to win the race, though the margin is much smaller this time. Additionally, the Galaxy S7 edge does a much better second lap compared to its first - returning to the apps, after they've been launched on the first go. Those 4GB of RAM certainly help.
D
I've been gone a while. Alas stuff is still the same. :)
D
lol, i didn't realize i was talking to such a drama queen :D. oh well :P Am not a fanboy like u buddy ("leave samsung", really? makes it so obvious appleboy :P), and no offense but help from your kind (fanboys i mean) is the last thing i need :...
S
IMO the idea behind test is how fast one device can run app's in their native resolution! so bugsung & lagwiz fans don't blame the resolution!
ADVERTISEMENTS