Galaxy S7 promotional video features a jetpack guy flying along a river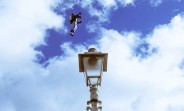 What would you do if you're tasked with creating a promotional video for your company's latest flagship phone? Rope in a guy with jetpack and record him flying along a river? Sounds weird? Well, Samsung did just that to promote the Galaxy S7 - see video below.
The 30-second stunt was pulled off by Guinness World Record holder Nick Macomber, who took the flight along Dublinís River Liffey before landing on a raft with Samsung Galaxy S7 branding. According to Samsung Ireland, Macomber did what he did to deliver the flagship smartphone, although we aren't sure to whom.
And he's off! The JetPack Man just took to the skies in Dublin to deliver a #GalaxyS7 #S7ANewPerspective pic.twitter.com/DIJTCOKKvn

ó Samsung Ireland (@samsungireland) March 9, 2016
In case you missed, the Galaxy S7 and S7 edge officially launched today around the world - in 60 countries to be specific. While the deal was originally associated with pre-orders, those in the US and Germany still get a free Gear VR headset with each purchase of either of the handsets.
D
Yes, i know that too bro. What i am suggesting is this stunt pretty much can be any other brand promotion, because there were no mention of Galaxy S7 anywhere (edit: except for the landing pad). So it's more like an on-site promotion rather than an a...
A
A lot of people wud want to watch the clip just to see the jetpack, and while doing so they get to see the Samsung name At this time the name is all about the S7 & S7 Edge That's one way how the marketing is done bro & it's very effective...
D
The jetpack and the landing accuracy were awesome, but i don't know what is it have to do with Samsung Galaxy S7.