Sixes and sevens
Samsung Galaxy S7 vs. Apple iPhone 6s: Sixes and sevens
Display
Samsung has successfully taken AMOLED screens from a rare breed to a must-have status. The Super AMOLED on the Galaxy S7 is the most technologically advanced yet.
It's brighter than the S6 screen, reaching around 400 nits in manual brightness mode. The true maximum is closer to 540 nits, but that's available only under automatic control of the brightness.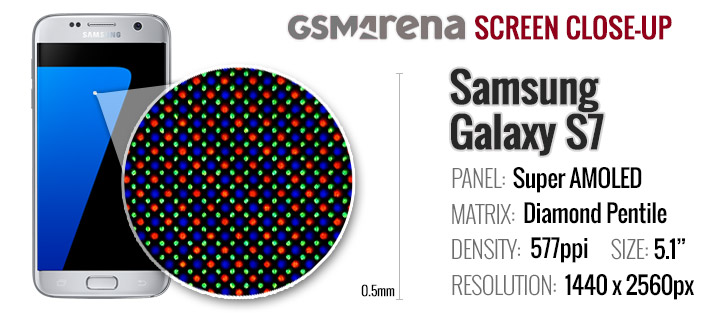 It can be very dark too - the minimum brightness is just 2.1nits. Even when you wake up in the middle of the night to check something, you won't be blinded.
The screen has an Always On feature too. As discussed, it uses 1% of the battery charge per hour, but you see the time and date plus missed calls and messages. Unfortunately, no other notifications are shown (e.g. WhatsApp, Facebook or others).

The Samsung Galaxy S7 screen has the most accurate colors of any mobile display as well. We measured an average deltaE of 1.7 and even the maximum of 2.3 is very low.
Note that this is in Basic mode, Adaptive mode boosts contrast and saturation to make images pop, but it takes the average deltaE up to 7.1.
For techies: Basic mode targets the sRGB color gamut while Photo mode aims for the wider Adobe RGB. You'll need photos shot in Adobe RGB to appreciate it, though, most content on the web is sRGB.
Apple's supply chain magic allows it to source high-quality screens that put up a good fight against the Samsung panel.
The maximum brightness is essentially the same, 540 nits, and it is available to the user with the manual slider (AMOLEDs wear out quicker at max brightness, so Auto mode is designed to prolong their life).
Contrast is a stellar 1,500:1. In a well-lit room you won't see a difference, but in the dark, you will notice faint light seeping through the black areas of the screen (but not on the Galaxy S7).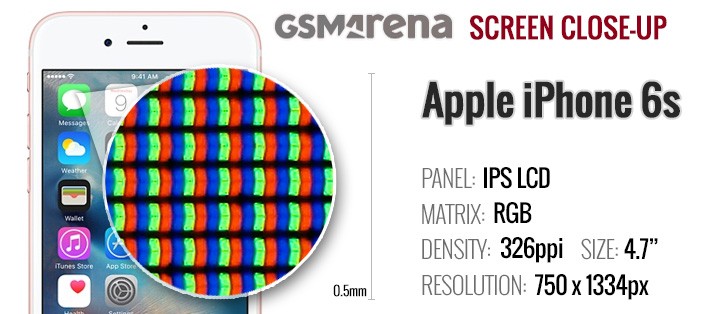 The screen is quite accurate too, we measured an average deltaE of 3.6. With calibration, you can get a typical screen under 4, so the iPhone 6s is ready to go right out of the box. Not that you could calibrate the display, Apple wouldn't let you tinker there.
Display test
100% brightness
Black, cd/m2
White, cd/m2
Contrast ratio
Apple iPhone 6s
0.36
536
1481
Samsung Galaxy S7
0.00
391
∞
Samsung Galaxy S7 max auto
0.00
563
∞
The Samsung Galaxy S7 display reflects less light than that of the iPhone, so even at 400 nits, it's more legible under direct sunlight. Switching to Auto mode extends this difference further.
Sunlight contrast ratio
Samsung Galaxy S6 edge+
4.615
Samsung Galaxy S7 edge
4.439
Samsung Galaxy S7
4.376
HTC One A9
4.274
Samsung Galaxy A3
4.241
Samsung Galaxy S6 edge
4.124
Samsung Galaxy Note5
4.09
Huawei Nexus 6P
4.019
OnePlus X
3.983
Oppo R7s
3.964
Samsung Galaxy A7 (2016)
3.918
Samsung Galaxy A5
3.895
Samsung Galaxy J7 outdoor
3.879
Samsung Galaxy J2 outdoor
3.873
Samsung Galaxy A8
3.859
Apple iPhone 6
3.838
Microsoft Lumia 950XL
3.837
Samsung Galaxy A9 (2016)
3.817
Motorola Moto X (2014)
3.816
Samsung Galaxy A5 (2016)
3.789
Apple iPhone 6s
3.783
Meizu Pro 5
3.781
Vivo X5Pro
3.706
Samsung Galaxy A7
3.679
BlackBerry Priv
3.645
Apple iPhone 6s Plus
3.53
Microsoft Lumia 950
3.512
Oppo R7 Plus
3.499
Samsung Galaxy J7
3.422
Meizu MX5
3.416
Oppo R7
3.32
Samsung Galaxy J2
3.235
Motorola Moto X Play
3.222
Lenovo Vibe Shot
3.113
LG Nexus 5X
3.092
Huawei Mate S
3.073
Microsoft Lumia 640 XL
3.065
Apple iPhone 6 Plus
3.023
Samsung Galaxy Note
2.97
Huawei Mate 8
2.949
HTC One S
2.901
Sony Xperia Z5
2.876
Microsoft Lumia 550
2.851
Sony Xperia Z5 compact
2.784
LG V10
2.744
Xiaomi Redmi 3
2.735
Sony Xperia M5
2.69
Xiaomi Mi 4i
2.641
Xiaomi Mi 4c
2.574
Microsoft Lumia 640
2.563
Motorola Moto G 4G
2.546
Oppo F1
2.528
Sony Xperia Z5 Premium
2.525
Sony Xperia M4 Aqua
2.503
Motorola Moto G
2.477
Huawei G8
2.471
Sony Xperia Z
2.462
Xiaomi Mi 4
2.424
Huawei Honor 7
2.406
ZUK Z1 by Lenovo
2.382
HTC One E9+
2.305
Alcatel One Touch Hero
2.272
Lenovo Vibe K4 Note
2.254
Sony Xperia C5 Ultra
2.253
Xiaomi Redmi Note 3 (MediaTek)
2.249
Sony Xperia C4 Dual
2.235
Motorola Moto G (2014)
2.233
LG Nexus 5
2.228
Huawei P8
2.196
Xiaomi Redmi Note 2
2.166
HTC One X
2.158
LG Aka
2.145
Archos 50 Diamond
2.134
Xiaomi Redmi Note
2.119
Huawei P8lite
2.078
Moto G 3rd gen max manual
2.026
Sony Xperia E4g
1.972
Meizu m2 note
1.892
BlackBerry Leap
1.892
HTC Butterfly
1.873
ZTE Nubia Z9 mini
1.759
Sony Xperia U
1.758
Asus Zenfone Selfie
1.68
Motorola Moto E (2nd Gen)
1.675
ZTE Nubia Z9
1.659
Motorola Moto E
1.545
Sony Xperia M
1.473
Xiaomi Redmi 2
1.311
Sony Xperia C
1.283
Meizu MX
1.221
Winner: Samsung Galaxy S7. As if we have to spell it out - the sharper, better calibrated screen usually wins, but this one has the bonus of Always On mode. Sure, you can get it at a lower cost with a Motorola or even a Lumia, but that doesn't diminish its impact.
Battery life
The Samsung Galaxy S7 has a massive advantage in battery capacity - at 3,000mAh, it has 75% more milliamps in its tank than the iPhone 6s. Apple is known for its great optimizations, but there's only so much rabbit you can pull out of a 1,715mAh hat.
The Endurance rating isn't as different as the battery capacity suggests. The Galaxy S7 can last an average of 80 hours between charges, that's over three days. The Apple iPhone 6s can go for 62 hours.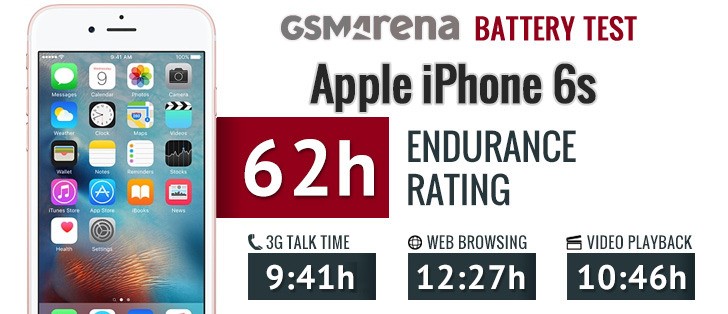 If you're planning to use the Always On feature of the S7, however, you should be prepared to charge more often - the Endurance rating drops to 49 hours (Samsung says the feature draws 1%/hour, so Always On alone will deplete the battery in twice that time).
The call times are much closer to what you would expect based on battery capacity. The iPhone 6s can't break 10 hours, so chatty users will get antsy when their battery drops below 20%-30% while S7 users can chat away.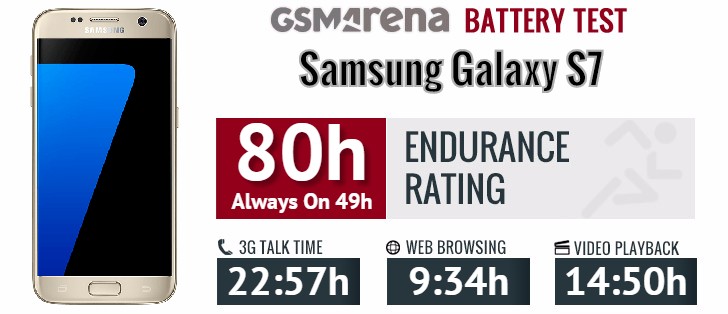 The Galaxy S7 did 9 and a half hours of web browsing, the iPhone lasted longer. Note that using Chrome instead of Samsung's browser gave a better result, by an extra 1 hour.
The video playback test went heavily in favor of the S7, so media buffs can enjoy videos with less of an impact on the phone's endurance.
Pushing electricity in the other direction - back into the battery - happens much faster with the Galaxy S7. Samsung packaged the phone with a Quick Charge 3.0 charger, which can fully charge the phone in 90 minutes (0%-100%).
Samsung sells fast wireless chargers, based on the Qi standard (the S7 also supports PMA). They are "40% faster than standard wireless chargers." These chargers require a 9V/1.67A adapter (basically, Quick Charge 2.0) though wireless charging is not 100% efficient, so less reaches the battery.
Apple, meanwhile, continues using 5V/1A chargers, which take a while even with the relatively small battery they have to fill up. You can speed things along if you use an iPad charger.
Winner: Samsung Galaxy S7. Honestly, we would give it the win just for the fast charging. It changes how you use a phone - you can just plug it in early in the morning and it will have enough charge for the day before you're out of the shower. It could last more than the iPhone 6s, but only if you disable the Always On screen mode.