Sixes and sevens
Samsung Galaxy S7 vs. Apple iPhone 6s: Sixes and sevens
Performance
Cross-platform performance testing is a tricky subject, but the issues faced by benchmark developers that support both Android and iOS are the same that face app developers.
The Samsung Galaxy S7 comes in two different configurations (aimed at different regions). The "international" version, like the one we have, is powered by an Exynos 8890 chipset, while the one heading to the US (and other regions) is based on the Snapdragon 820.
Its's custom core galore in this chapter. The Exynos 8890 uses Samsung's proprietary "Mongoose" cores, four of them in the big cluster. The little cluster is made up of four Cortex-A53s.
The Snapdragon 820 is all Qualcomm custom cores, Kryo, split into a big.LITTLE setup again, but there is only four cores in total, two in each cluster. We don't have an S820 Galaxy S7 around, so we'll include the scores of the S7 edge, which should perform identically.
Then there's the Apple A9, the iPhone 6s chipset, which has a dual-core processor with the Apple-designed Twister cores.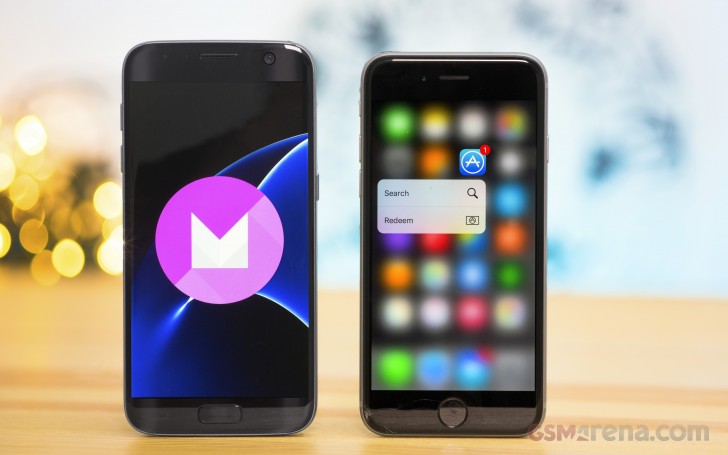 The Exynos chipset features an optimization that helps it when the app uses few cores. If only two Mongoose cores are engaged, they boost to 2.6GHz, up from the top speed of 2.3GHz when all four of them are online.
The big Kryo cores top out at 2.15GHz while the even bigger Twister cores go to 1.84GHz max.
"Even bigger" since in single-core performance the Apple-designed processor comes out on top, Mongoose is on the bottom (despite the clock speed advantage) and Kryo splits the difference.
GeekBench 3 (single-core)
Higher is better
Apple iPhone 6s
2542
Galaxy S7 edge (Snapdragon)
2345
Samsung Galaxy S7
2170
iOS devs know their target device very well - 2 cores, that's it - while their Android colleagues have to deal with many octa-core CPUs of different makes. The "octa-core" label often hides low-power Cortex-A53 cores, so a well-built Android app has to split its workload among as many cores as possible.
A properly powerful chip like the Exynos 8890 shines on multi-threaded tests and turns the tables on the other two. The Snapdragon 820 design again falls between it and the iPhone.
GeekBench 3 (multi-core)
Higher is better
Samsung Galaxy S7
6360
Galaxy S7 edge (Snapdragon)
5420
Apple iPhone 6s
4427
Basemark OS 2.0 points to the S820-based Galaxy as the winner in overall performance, while the Exynos version is at the bottom, hot on the heels of the iPhone 6s.
Basemark OS 2.0
Higher is better
Galaxy S7 edge (Snapdragon)
2352
Apple iPhone 6s
2195
Samsung Galaxy S7
2128
We have three different GPUs - a Mali-T880 in the Exynos Galaxy S7, an Adreno 530 in the Snapdragon 820 version and a PowerVR GT7600 in the Apple handset.
Looking at the offscreen test (which ignores screen resolution), the Adreno comes out as the clear winner, with the Mali and PowerVR roughly equal.
GFX 3.0 Manhattan (1080p offscreen)
Higher is better
Galaxy S7 edge (Snapdragon)
49
Apple iPhone 6s
39.5
Samsung Galaxy S7
38
Of course, the Apple iPhone 6s has to render at much lower resolution than the Galaxies - 750 x 1,334px vs. 1,440 x 2,560px, That's less than a third of the pixel count!
Some games don't actually use the full screen resolution, but instead render internally at lower resolution.
That said, iPhone devs can get very close to 60fps at native resolution, while Galaxy S7 games will run closer to 30fps if they go for QHD. The other option is to reduce fidelity, a QHD screen is its own form of anti-aliasing.
GFX 3.0 Manhattan (onscreen)
Higher is better
Apple iPhone 6s
53.6
Galaxy S7 edge (Snapdragon)
29
Samsung Galaxy S7
27
BasemarkES 3.1 shows an advantage for the Mali-T880 over Adreno 530 (it was the reverse in GFX), so the particular 3D engine a game uses may affect performance. Again, iOS devs have it easy since they have to target Apple A9 and A9X (for iPads), allowing them to optimize their games better.
Basemark ES 3.1 / Metal
Higher is better
Apple iPhone 6s
879
Samsung Galaxy S7
732
Galaxy S7 edge (Snapdragon)
624
Winner: Depends. Its big Twister cores have great single-core performance, which makes the life of an iOS app developer easy. The Galaxy S7 comes out ahead in multi-core tests but not by much.
The Samsung also has the more powerful GPU and while it has a lot more pixels on its screen, few games will actually render at full resolution so we put more weight on the offscreen performance. One class of games will use every screen pixel it can get - VR games - and those are very demanding even for high-end PCs. VR isn't on Apple's mind though, not yet.