Sixes and sevens
Samsung Galaxy S7 vs. Apple iPhone 6s: Sixes and sevens
Final words
Apple and Samsung users see the world differently. When a typical Galaxy S buyer lands on a customization page, they instinctively tick all the checkboxes. And since phones aren't (yet) customizable, the Samsung Galaxy S7 just includes every feature plus several not yet seen on a mobile device.
Apple iPhone 6s buyers believe that "the whole is greater than the sum of its parts" and don't fret over this or that particular feature, as long as the iPhone experience remains as great as it ever was, even when you look back at earlier models through rose-tinted glasses.
That's why few people remember when Apple removed cover flow or card reader support from the iPhone (the latter is back now), but every Galaxy owner will loudly let their rant out over the S6's sealed battery and missing microSD slot.
Samsung has done an excellent job of staying at the cutting edge of emerging technology trends. And VR seems to be the latest fad - CES, MWC, GDC - all the tech industry events were chock full of VR demos and hardware. Samsung gave away free Gear VRs with each Galaxy S7 pre-order and thanks to Oculus allow users access to a fairly varied game and app store.
Dual Pixel autofocus is still something rare even on DSLRs and yet millions of people will soon have it in their pockets. The Galaxy S7 also teases pros with a very advanced manual mode and bright f/1.7 aperture and casual users with things like YouTube live-streaming and Hyperlapse.
The perfectly calibrated display is great both for games and for reviewing your photos later on (including diving into Photo Spheres with the Gear VR). The Always On feature isn't exactly new ground, but we live in an always-on world and many users would like to keep on top of their notifications.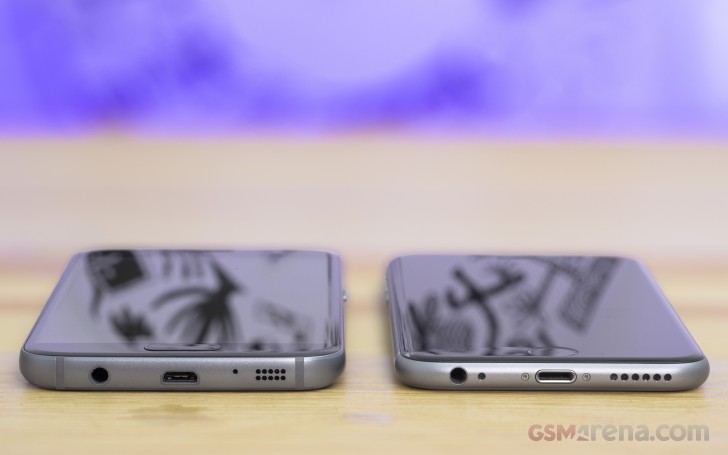 Samsung is also beating the path to a wire-free future. The microUSB 2.0 port feels as obsolete as it looks, there is fast Wi-Fi ac and powerful wireless charging to push data and electrons around instead of a reversible connector, be it USB Type-C or Lightning.
Samsung Pay rides the "wallet-free" wave, especially in the US where many business and banks still rely on old magnetic stripe cards, which the Galaxy S7 can emulate, but not the iPhone with Apple Pay.
To Apple, as usual, the user experience is more important than the user involvement. The camera doesn't have a Pro mode, the screen has no color modes, instead of waterproofed hardware you have Apple Care and so on.
The big additions this generation - 4K video and Force Touch - are hardly novelties, but despite what Apple says at its presentations, the company is more concerned with perfect execution than with breaking new ground.
Samsung's S Pen had preview functionality similar to Force Touch well before the iPhone 6s came out, but removing the need to use a stylus makes Apple's solution more accessible.
As for 4K video, the quality is great, Apple got it right on its first try. But the resolution setting is buried in the Settings menu rather than available in the camera itself. For Apple, this is a choice you make once - do you have a 4K screen or not? Storage is a similar choice. If you're okay with 16GB, you'll never need a microSD, otherwise get the roomier 64GB version (or even 128GB) on day 1.
Which group of people sounds more like you? That's a great indicator of which phone you should go for - the adventurer or the perfectionist.