It now seems like new information, leaks, and rumors about the Samsung Galaxy S7 arrive multiple times each day, as we get closer and closer to the February 21 unveiling date for the handset. A very short while ago the first alleged hands-on image of the Galaxy S7 got outed, and now we have new details about one of its features.
Among many other things that were leaked in a report in January was the fact that both the Galaxy S7 and the S7 edge would sport a feature called Always On Display. And now this has been pretty much confirmed by a trademark application that the company filed in the US.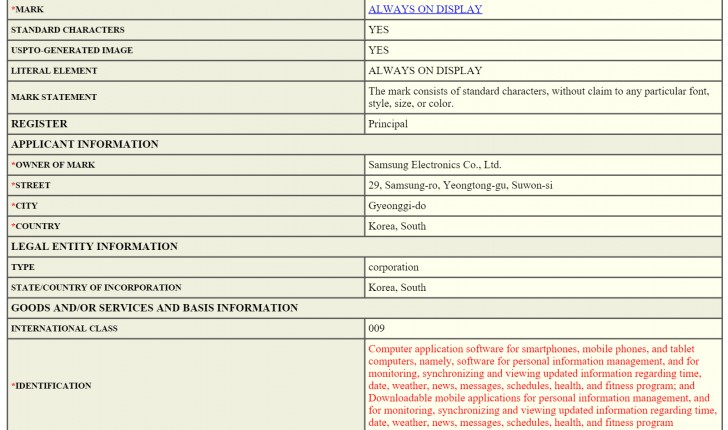 As you can see, Samsung wants to own the trademark for the term Always On Display, and in the domain of mobile phones and tablets no less. Always On Display does sound a bit vague, so it's unclear if it will be granted to Samsung as a trademark, but the filing itself tells us that the company is working on such a feature.
This is expected to function in a similar fashion to what we've first seen from Nokia Windows Phones a few years ago. Since the Samsung flagships have AMOLED screens, and these only light up the pixels that are actively showing something, you don't waste a lot of power by displaying things like a clock and perhaps notifications on a black background on a small portion of the screen.
Of course there's no mention in the USPTO filing of the Galaxy S7 itself (or the edge model), so there is a slim chance that Samsung only wants to use Always On Display for other upcoming phones, perhaps the Note 6. But the February 2 filing date does seem to strongly imply that this is in fact all about the S7 family.
S
You don't grasp the English language. Yes, light passing through a window DOES mean the window is lit, not by its own light source but by the light shining through. I suppose the sun doesn't light up the Earth either because our planet (well, mine. N...
T
When light passes through a window, is the window then lit? No of course not. The E in OLED stands for Emissive. The OLED pixels lit up. The LCD pixels do not. They simply let the background light from the LED panel shine through (or block it). ...
T
You started talking down with this sentence: "In fact, I'm not even convinced a lot of you know what screen burn in is?" And another gem:"it's scaremongering by people that are to ignorant to know how the tech works." You are quite the hypocrite....