Galaxy S8 and S8+ batteries photographed - 3,000mAh and 3,500mAh it is, then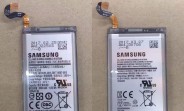 Piece by piece, the puzzle that is the Samsung Galaxy S8 (and its S8+ big bro) is coming together. Following the retail package from a few hours ago, we now have photos of the batteries that go into both phones.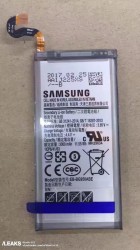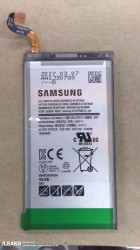 Galaxy S8 battery • Galaxy S8+ battery
The gist of it is that, yes, as initially rumored, the 5.8-inch Galaxy S8 will have a 3,000mAh battery, while the 6.2" S8+ will pack 3,500mAh worth of juice. Compare that to the 3,000mAh power pack inside last year's 5.1-inch Galaxy S7 and the 3,600mAh in the 5.5-inch S7 edge.
Of course, as we established in the LG G6 review, display diagonals don't allow for direct comparison of screen area between displays with different aspect ratio. That, and the fact that the S8s will be powered by newer 10nm chipsets, means we still may get good battery life out of them, despite the slight disproportion between battery capacities and display diagonals.
?
*Taller screen , not bigger. If you put any 16:9 content (youtube videos, many of the apps), S8's screen is actually smaller (due to being less wide)
?
So many people were critical of HTC for putting the same size battery inside. Only to eat their words. The U Ultra out performed the 7 Plus, Pixel XL, Huawei P10 and Sony XZ.
ADVERTISEMENTS