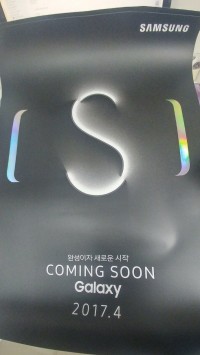 While the unveiling date of March 29 for the Galaxy S8 and S8+ is official, so far Samsung hasn't announced precisely when you'll be able to purchase one of its new flagships. However, all of the rumors we've heard so far on the matter pegged either April 21 or April 28 as the release date for the duo.
To confirm the April time frame for the S8 and S8+ becoming available in stores, today a leaked poster surfaced. You can see it in the image to the left. It leaves absolutely no doubt as to which month the launch will occur in.
Samsung is once again using the phones' minimal top and bottom screen bezels to make a point, just like it has in the official teaser for the March 29 event. The S8 smartphones are expected to rock both Samsung's Exynos 8895 chipset as well as the Qualcomm Snapdragon 835, depending on market, and earlier today we found out that the former will outperform the latter, if ever so slightly.
The smaller Galaxy S8 will have a 5.8-inch display, while the S8+ will get a 6.2-inch panel. Because of those minimal bezels, however, as well as the rumored 18.5:9 aspect ratio of their screens, they will be much smaller than you'd expect just by looking at those numbers. Camera-wise we're likely to get a 12 MP main snapper on both, with dual pixel autofocus and insanely high-fps video capture.
D
if you can back up this statement with 4 factual reasons as to why the iphone range is better than all Samsung ranges then I'll believe you. After all, you are the iphone king no?
D
the leaked poster image that clearly states 'S' on the front? or is that too subtle?
ADVERTISEMENTS