Camera - how 8MP beats 8MP
On the face of it, both cameras are the same - 8MP with LED flash. But the camera unit in the Galaxy S III is different than the one used in the S II and the differences are not too trivial.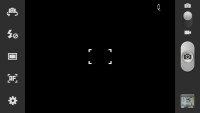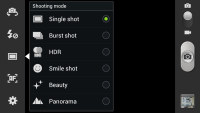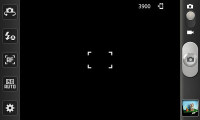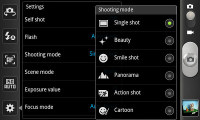 The new camera interface (on top) looks a lot like the old one (on bottom)
The set of features each camera offers is the first change you're likely to encounter. The S III uses its extra processing power to do things like full resolution burst shots (up to 20 photos), take full-res 16:9 photos while recording 1080p video, snap 8 photos and pick the best one automatically and recognizing people right after the shot is taken (no just detecting human faces, the S III can tell who is who).
As far as image quality is concerned, Samsung changed the way photos are processed in the Galaxy S III. Photos have better contrast compared to the S II and color balance is a tad more accurate. The S III boosts the green channel more than the S II, which gives its photos a slightly different look.
The amount of resolved detail has gone up a notch and the noise levels have gotten very low. It's not a drastic upgrade and photos from the Galaxy S II are still pretty good, though the S III manages to resolve the thin lines that the S II smudges away.
When you factor in the slightly wider viewing angle of the Galaxy S III, it's not a bad overall improvement, but the jump in quality isn't quite like the one we got when moving from the Galaxy S to the Galaxy S II.





Samsung Galaxy S III • Galaxy S II • Galaxy S III • Galaxy S II
We've also prepared a couple of 100% crops from the photos to highlight the differences between the two cameras - the amount of resolved detail, the noise and color rendering.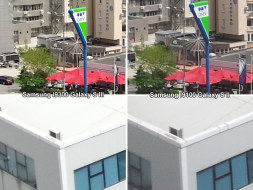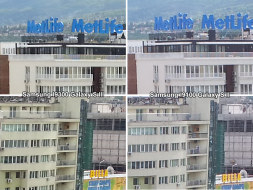 100% crops from 8MP photos taken with the Galaxy S III and Galaxy S II
Turning to our Photo Compare Tool for confirmation, the ISO chart clearly shows the increase in both horizontal and vertical resolution - it's not much, but it's there. The noise reduction doesn't appear to have been boosted (the gravel, grass and white noise patches look the same), but the level of noise has gone down noticeably (look at the grey background or the color patches).
Under artificial lighting (the third chart), the Galaxy S III processing settles on a better white balance (S II photos have a tint).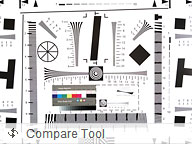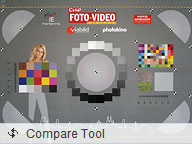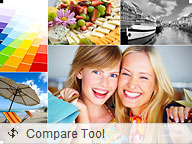 Samsung Galaxy S III vs. Galaxy S II in our Photo Compare Tool