Head to head revisited
Galaxy S II vs. Galaxy S Plus vs. Optimus 2X: Head to head revisited

Synthetic benchmarks: more is better
The last time we put those two against each other both were running their CPUs at 1GHz. Now, we've got a finalized Samsung Galaxy S II with a 1.2GHz clock speed and we've updated the LG Optimus 2X to the V10B firmware to make use of any optimizations LG might have made since we last tested the 2X.
Also, the Samsung Galaxy S Plus will show us if single-core CPUs are still worth it – 1.2GHz is pretty fast (the final version should be faster still) and it should have a 20% advantage in single-threaded benchmarks over the original Galaxy S and Optimus 2X, while lagging behind the dual-cores in multithreaded ones. Graphics is another thing to consider as you'll see in a minute.
Let's start with the dedicated CPU benchmarks. BenchmarkPi and Linpack both show an improvement of a little under 20% in performance between the LG Optimus 2X and the Samsung Galaxy S II (as expected). The Galaxy S Plus is a major improvement on the original, nearly reaching the scores of the S II in Linpack - so, the final 1.4GHz version should be top dog in this benchmark. The S II is still ahead by virtue of its newer architecture, while the original fails miserably here for some reason.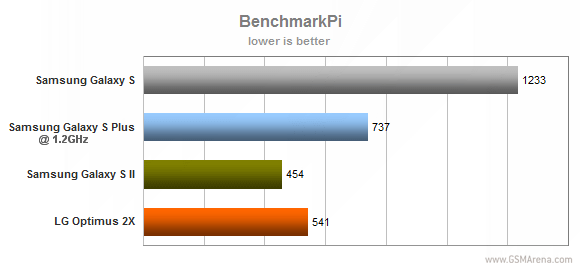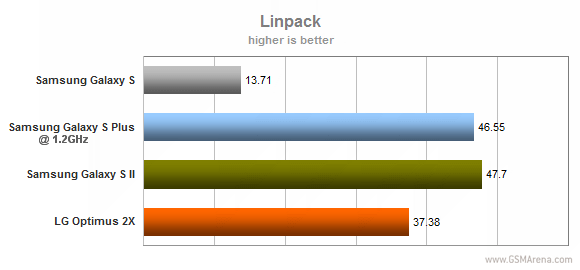 Quadrant and SmartBench 2011 Productivity show a big lead for the Galaxy S II too. Quadrant marks an improvement of over 20%, which we suspect has to do with the EXT4 file system used in Gingerbread. These two tests show that one fast core doesn't quite cut it when it comes to general usage and the S Plus can't touch the dual cores.
The Game test suit of SmartBench 2011 crowned the mobile GeForce as the champion with a comfortable advantage.
You'll notice that the Adreno 205 in the S Plus actually does worse than the PowerVR SGX540 in the original Galaxy S, which (oddly) beats even the Galaxy S II. Running GLBenchmark however was pretty definitive – the frame rate was smooth on the S II, smoother than the original Galaxy S.
We couldn't check the exact scores since the benchmark crashed at the end, but the difference in frame rate was readily apparent to the naked eye.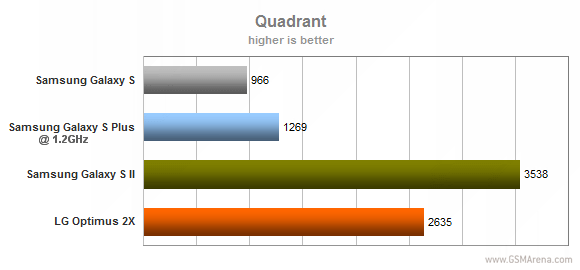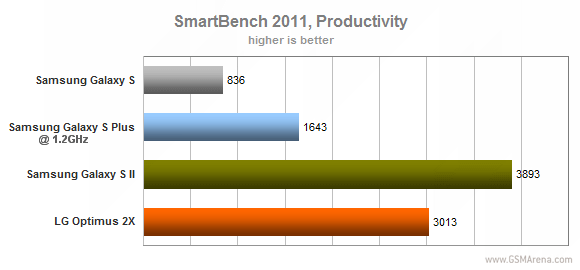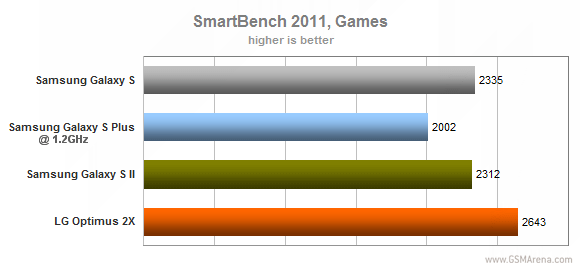 SunSpider is a JavaScript benchmark that focuses on pure script performance – that is no graphics, no changing anything on the web page, just calculations. Unsurprisingly, Galaxy S II has the lead here, but the Galaxy S Plus holds its own with only its older architecture holding it back, though an extra 200MHz clock speed will help it close the gap.
BrowserMark, which test both number crunching performance along with graphics and web page handling, puts Galaxy S II in the lead with the Optimus 2X a close second. The original Galaxy S lags behind while the S Plus shows decent improvement but doesn't reach the dual-core levels of performance.