Today we got some spicy information concerning all Samsung Galaxy owners, regardless of the type of gadget they have - a smartphone or a slate. It's a list showing which devices will be getting the Android 5.0 and which will end with the upcoming Android 4.2.2 Jelly Bean update.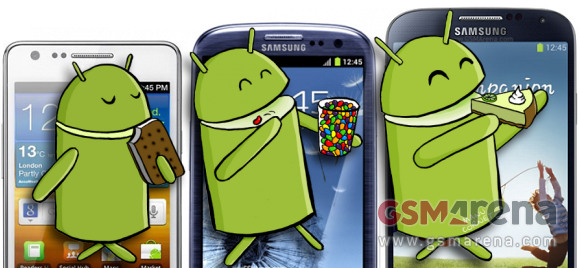 So, the smartphones to end their life cycle with at Android 4.2.2 Jelly Bean are:
Even though 4.2.2 version will be the last Android upgrade for those, let's not forget how old some of them actually are and how many previous updates they've got (this will be the third major update for the Galaxy S II). And when you think about the update policy of other manufacturers (if it even exists), Samsung did a commendable job keeping its high-end devices up to date.
Now comes the list with the devices which will get Android 5.0 and possibly even more updates.
Once again we want to remind you this list is not official, though it is claimed to come from a company's insider. You should always take such leaks with a pinch of salt, as we do.
A
It seems fake as S3 ended on jellybean(4.3), didnt even receive kitkat and they are saying it will receive android 5.0. How it is possible?
N
Proud galaxy note 2 owner,expecting to get android 5.0. Hope its worth waiting if this list is not fake.
ADVERTISEMENTS