Last week we reported that Samsung and Verizon are working on a special Developer Edition of their new Galaxy S III smartphone. The main feature of this device is that it will feature a user unlockable bootloader and will be sold without a contract for $599.
The reason this model is necessary because unlike the Galaxy S III sold on other carriers in the US, the Verizon version ships with a locked bootloader.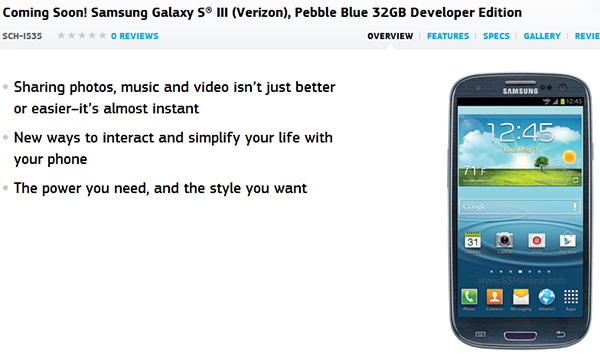 The aforementioned Developer Edition is now official and can be spotted on Samsung's website. There is no price mentioned but as we heard before, it is going to be $599, which is not bad because you are getting 32GB of internal storage, which would typically cost you $649 if you get it from Verizon. According to the website, it seems that this model will only be sold in the Pebble Blue variant.
The Developer Edition will only be sold through Samsung's website and not through Verizon. No release date is available at the moment.
a
Shall enjoy this developer edition once available. Say or think what you will about Samsung they've a most effective product team and marketing capabilities. They've advanced the smartphone market by offering a broad range of smartphone devices from ...
D
i'm sorry, but did i asked for you to explain me the global market share ? NO. I only asked if someone knows when will this device to sell. And i'm not like "Look at the facts kid". Because i'm not a kid, i know the facts, i have been readi...
i
Don't tell me Apple makes washing machines and microwave ovens nowadays... 'cause Samsung does!!! Oh, don't forget that the iPhone's processors are made by... Samsung!!!
ADVERTISEMENTS