According to a leaked screenshot by the MobileSyrup.com, the Samsung Galaxy S III is expected to go on sale in Canada on June 20. The screenshot says 'Pre-order today', although there is no way to tell when exactly 'today' is.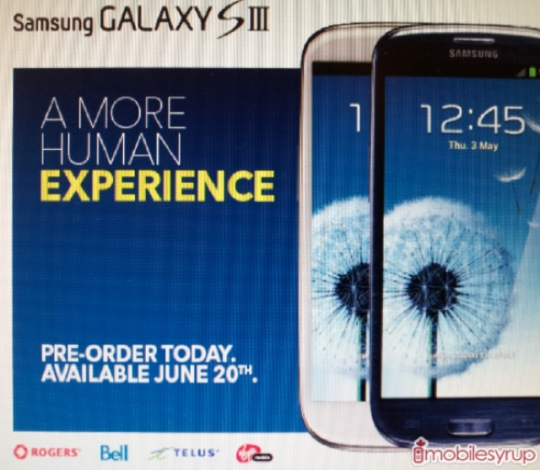 We can also see names of the four major Canadian carries, including Rogers, Bell, Telus and Virgin Mobile who will be selling the phone on launch day.
But it seems Canada won't be alone in getting the phone on June 20. TMoNews is reporting that T-Mobile in the US will also be getting the Pebble Blue variant on the same day, with the Marble White version arriving on July 11 and only in 16GB variant.
All of these are just rumors at this point and it's best not to dwell too much on them. We'll let you know when we hear something concrete.
B
It is already available at canadagsm.ca, how they got already if it's still not out in canada?
L
Can't wait for the Samsung Galaxy 111 comes out. What is the screen size? Can't buy one, but am very interested, I have had NO luck with phones.
S
Wow!Thanks a ton for a very educated & informative comment......\0/\0/....:)
ADVERTISEMENTS