In today's issue of Galaxy S III Rumors Daily: Samsung has decided on keeping the hardware home button on its next Galaxy flagship. Apparently the topic was under heavy discussion over at Samsung HQ and the decision was made right before the yet-unseen device went into production.
Another rumor coming from Korea Digital Daily is the Galaxy S III's user interface will be set in 5 columns, like the Galaxy Note, and unlike the Galaxy Nexus.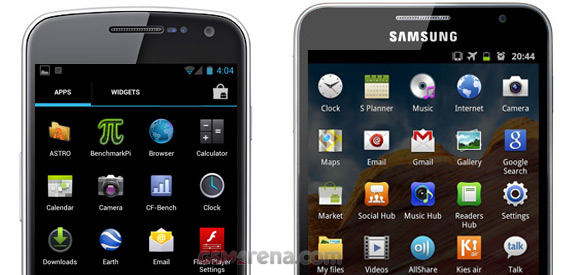 If these new rumors turn out correct then this previously leaked mock-up of the Galaxy S III might be right on money - both with the home button and 5-column layout.
Samsung's next flagship chose to ignore the MWC floor this year, which allowed the rumor train to really pick up speed. The Koreans have apparently kept leaks to a minimum by supplying carriers with a rectangular body that had all the software and hardware inside but didn't give out the final design.
s
os: android 5.0 jellybean (possible) camera: 41 MP HD (nokia have it) screen: 5.0 inch (possible, galaxy note and htc one have near to 5 inch) bluetooth: 4.0v (htc one hav it) video: 1080p processor: 1.5 quad core (it means double fast pro...
D
Samsung Galaxy S111 will not be a hit since people know that Galaxy Note with, S111 advance version SPEC will be launched soon.
M
I hope the so called photo leak is not true. I dont want to see a galaxy note look a like and all these rumors and samsung not releasing the GS3 info out to public is making me look at the htc one x. Cmon Samsung dont be another apple
ADVERTISEMENT