Garmin has announced a new GPS running watch called Forerunner 25. The watch uses GPS to track the distance you ran, your pace, your steps, heart rate, and use that to tell you how many calories you burned.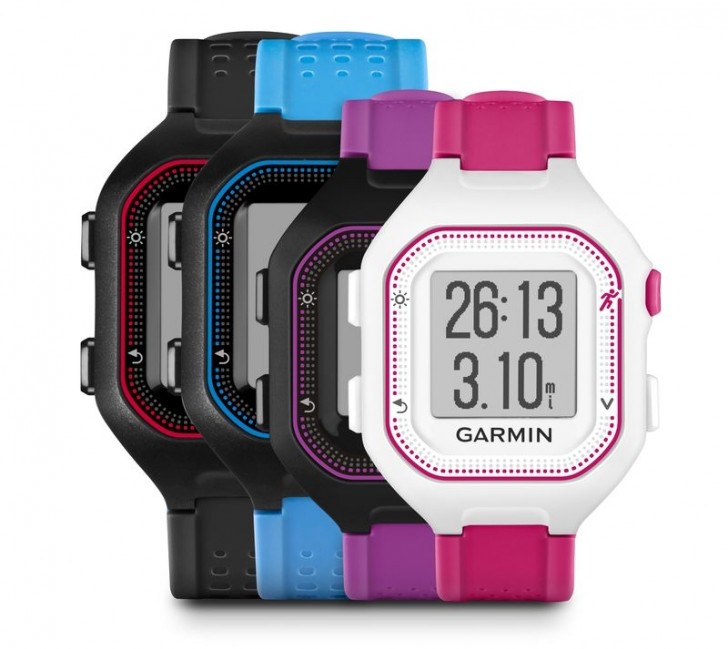 The watch also pairs with your phone to transfer all that data to the Garmin app on your phone, where you can keep a track of all of it and even upload it to Garmin Connect, a free online fitness community. The watch will also show you basic notifications from your phone on the screen. The watch has a battery life of 10 hours in training mode with GPS on, and 10 weeks in watch/activity tracking mode. Subtract two from each number if you choose to go with the small watch face version.
The Forerunner 25 comes in two sizes, with black/red and black/blue options available for the large face, and black/purple and white/pink available for the small watch face, although it would have been better if all the colors were available for all the watch sizes. The Forerunner 25 is priced at $169.99 for the standard version and $199.99 for the one with the heart rate sensor and will begin shipping in Q3 of this year.
D
The price is a bit of a letdown. I got my Vivoactive, for about the same price, and it looks better, has color display. I', sure it has other advantages as well.
D
Only if it wasn't so damn ugly...
D
Actually is very well priced (according to competition). Very good piece of equipment - for runners. It has all necessary goodies: light, simple, no touch screen - just 4 buttons, tough and durable.