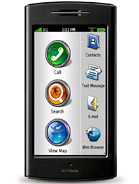 s
Hi-Tek , After all this is a GPS purposed Device, with ather extras like WIFI and phoning...The easiness of using GPS has never been more convenient with other device. It's a GARMIN ! :)
H
It looks good but falls short on features for me...no video recording, no flash for the camera, no fm radio, and no stereo speakers...no go for me. these are features that made nokia #1 in the world.
r
how about hotmail's does that support it and how many mail accounts can we have with this phone? and how is the push mail is it like the iphone or like the blackberry??
?
gsmarena, you haven't said anything about it's gps in the presentation, not in the review:D
R
Now my sarching over Nuvifone G60 Is My 1st Complitable Fully Loded PDA....
O
this is a great phone... cant wait till it comes out surely it will replace my iphone
Total of 69 user reviews and opinions for Garmin-Asus nuvifone G60.