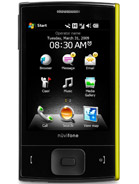 s
battery less than 1000mah... how many hours would it stands.....
i think it should be powered with higher capacity for it comfort for running gps device...
t
What is with phone manufacturers putting out beautiful images of a phone only to have the real thing look so bland!?
?
kirs, 09 Mar 2009is the gps of this unit works in philippines?gps stands for global positioning system, it work everywhere on earth, and most likely you could find a map for your region; or use garmin xt for a more specific map
K
Well, its made in association with Garmin, so the GPS should be of a better grade than most available PDAs/Smartphones in the market now.
?
The phone is perfect if you don't want to store extra stuff in your card. i love the design though, i love everything. i just wish that they added a card slot. C'mon,it is 2009, year of wifi and card slot
D
I love the design of this phone but no card slot should be a problem for those who love storing data and listening music on their phone. And the battery,Li-Ion 920 mAh isnt enough, at least for me. Anyway, I will buy it when its released.
Total of 50 user reviews and opinions for Garmin-Asus nuvifone M20.