According to the latest report from Gartner Research, worldwide smartphone sales over the April - June period totaled 368 million units. That's 1.7% lower than the same time last year. Samsung maintained the top spot in terms of market share with 20.4% of all smartphone sales for the period, followed by Huawei with 15.8% and Apple with 10.5%. The top five list is complete with Xiaomi and Oppo which held 9 and 7.6% market share respectively.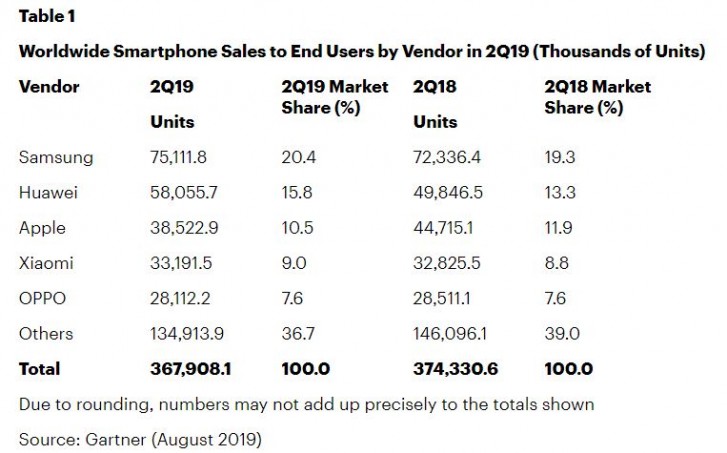 For Samsung, this was the first quarterly growth after six consecutive declines as it managed to push out 75 million units in total. The strong quarterly results came thanks to strong demand for the revamped Galaxy A series. Apple on the other hand saw continued dwindling demand for its iPhones and amassed just 38.5 million shipments, down from 44.7 million just a year ago.
Demand for high-end smartphones has slowed at a greater rate than demand for midrange and low-end smartphones. - Anshul Gupta (Gartner)
Taking a look at per-country basis, China amassed the most smartphone sales for the period with 101 million sales which is a slight 0.5% increase compared to last year. The growth was mainly driven by discounts on high-end 4G phones in light of the recent push for 5G devices in the country.
Brazil was the only other country where we saw year over year growth at 1.3%. The new findings go in hand with a previous report from Gartner which predicts that global smartphone shipments will continue to plummet as 2019 comes to an end.
I think 2-3 phones per year should be more than enough this is just too much to fill the landfills like Sudokwon etc.
Thats great. Adroid is way better and user friendly OS and Harmony will be outstanding.