Another day, another Q2 report - Gartner put out its assessment of the mobile phone world for the second quarter of this year, detailing how individual companies and smartphone OSes did.
Interestingly, the worldwide market saw only 419 million phones sold to consumers. "Only" because that's actually a decrease of 2.3% compared to last year's Q2 and "surprising" because smartphone sales were up a whopping 42.7% QoQ.
Despite this smartphones are yet to become the dominant breed worldwide - they accounted for just over a third of all phone sales. Most of those (83%) carried an Apple or a Samsung logo.
Samsung had an excellent quarter - it sold 45.6 million of their Galaxy droids (that's over half of all Androids sold in Q2) and the Galaxy S III became the best selling droid in that quarter. Gartner says S III sales would have been higher if it wasn't for the supply shortages.

Apple's iPhones cooled off a bit - they still grew in market share, but sales fell 12.6% compared to Q1. That's hardly surprising, though - with the impending iPhone 5 launch many will hold off on buying a new iPhone.
Things start to get grim when you look further down the table. Symbian's market share plummeted by 16.2 percentage points in a year and BlackBerrys lost 6.5 percentage points, both platforms now sitting at 5-6%.
The bad news for Nokia continues and Microsoft shares in their pain - Windows Phone 7 snatched only 2.7% of the market. To add insult to injury, Samsung's Bada OS has the same number, according to Gartner. Windows Phone 8 can't come soon enough it seems.
Nokia still has it's chin up - it's the second biggest phone vendor in the world, behind Samsung (we're talking smart and feature phones combined). They used to be a distant first a year ago.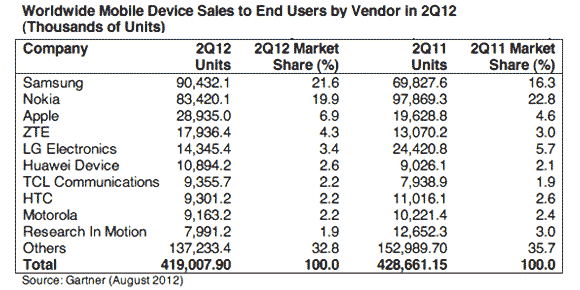 Apple managed a third place, despite their smartphone-only business model, and ZTE comes in fourth, ahead of LG (who used to be third a year ago). Another Chinese company, Huawei, is ahead of big names like HTC, Motorola and RIM.
D
Wonder why Research in Motion a.k.a Blackberry isnt in the Top 3??far as i know it might be a less prerogative that Phil. has many BB users... Good thing for Samsung that they garner the market share almost half of Google Android.. It would be a grea...
?
HTC has just put out crappy phones with specs that were not at the top of the game... I used to have HTC butafter the Galaxy S I moved to Sammy and never looked back. Where Sammy and other competitors put in 1 gb ram HTC have for many of their...
D
It's just that I prefer simplicity and convenience,but as well enough to satisfy all my basic needs plus the other useful features which a smartphone is known for,over others. The more functional together with the convenience it provides, the better ...
ADVERTISEMENTS