Global smartphone sales reached 408 million units during the 2017 holiday season, Gartner reported. This is a 5.6% decline, compared with Q4 2016, when over 432 million phones found a new owner, marking the first time sales go down since Gartner started tracking in 2004.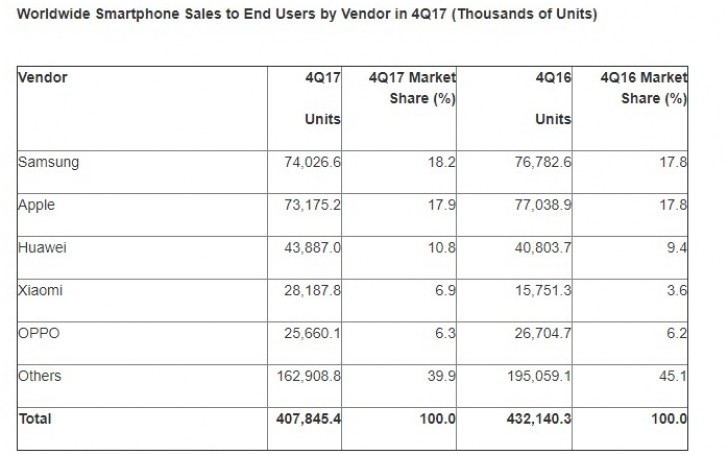 According to Anshul Gupta, research director at Gartner, two factors led to the fall: the upgrade from feature phones to smartphones slowed down due to lack of ultra-low-cost devices and users deciding to choose a quality model and stick with it for a longer time before switching. "Moreover, while demand for high quality, 4G connectivity, and better camera features remained strong, high expectations weakened smartphone sales", added Gupta.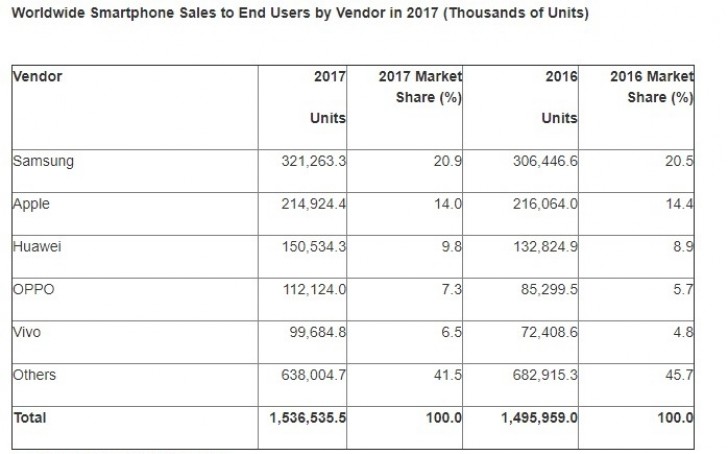 Due to the massive success of the Galaxy S8 duo and the disappointment with the pricing and launch strategy of the iPhone X, Samsung was back in the lead both in volume and market share ahead of Apple for Q4. Both companies, though, posted declines, where the actual winners are Huawei and Xiaomi that increased their sales with 3 million and 13 million, respectively.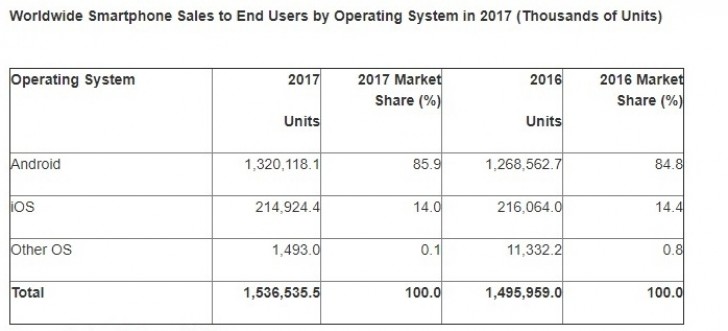 While there were some tectonic shifts in the quarterly results, overall 2017 results were more mellow, with an increase of 2.7% global smartphone sales - from 1,495 billion to 1,536 billion. Top 5 companies held their positions - Samsung was in the lead, ahead of Apple, Huawei, Oppo, and vivo. During the past year, Android users jumped from 84.8% to 85.9%, while its owners were in the vicinity of 14%. Under 0.1% sales were of devices with another mobile operating system.
a
1000$ for phone is crazy. Not buying a phone over 200$-300$. But thanks to contracts for other countries, they dont even bother about the prices anymore, its 20$/mo vs 10$/mo for them.
e
I think it's because smart phones are getting better every year, I'm still rocking the Google pixel and I have no regrets not upgrading to the pixel 2 because my phone works the same way it did the first day I got it and it's even better with the 8.1...
?
No they don't. Their prices are cheaper because they're willing to make less profit on every phone sold to sell more phones thereby making the money back when they sell more phones overall as shown by the Gartner results.
ADVERTISEMENTS