Market research firm Gartner has released its latest report on quarterly smartphone market share, revealing a major drop in Windows Phone's share - from 3% in Q3 2014 to 1.7% in Q3 this year.

In terms of number of units, the Redmond, Washington-based company shipped 5.87 million units in the third quarter this year, down from 9.033 million units it shipped in Q3 last year.
It's worth mentioning that Microsoft - in its earnings report for Q3 2015 - revealed that it shipped 5.8 million Lumia phones in the quarter, effectively suggesting that only 70,000 Windows Phone units were shipped by other OEMs in that period.
"Despite the announcement of Windows 10, we expect Windows smartphone market share will continue to be a small portion of the overall smartphone OS market as consumers remain attracted by competing ecosystems," said Roberta Cozza, research director at Gartner. "Microsoft smartphones will mainly focus on driving value for enterprise users."
As for smartphone manufacturers, while Samsung and Apple retained the first two spots in the quarter, China's Huawei - which came in at number three - recorded the highest growth in mobile phone and smartphone sales in Q3, with market share increasing from 5.2% last year to 7.7% this year.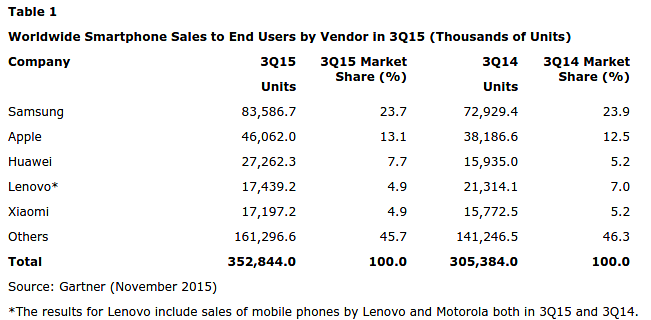 V
The total does make 100%. In 2015 column it adds up to 100.1 because they have obviously used round figures. (If you add 2.5 & 2.5 it's 5. But the addition of their round figures is 6). The quantity of phones even if increased by 20 millions, the...
D
All manufacturers are selling more than before, but MS have a smaller increase than others do, thats why % go down and millions go up.
?
there numbers seem bogus , first off they dont total an even 100% and how could a market share go up 10 million phones and % go down? so obviously there using funny math.
ADVERTISEMENTS