A new leak reportedly shows the Samsung Galaxy Note7R in the wild. Consisting of two photos of the device's front and back panel, the leak brings more evidence that Samsung's refurbished Note7 is inching towards availability.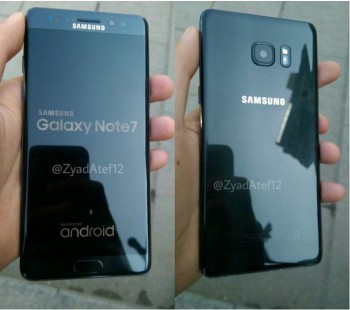 Samsung Note7R (click to enlarge)
The leak holds nothing surprising as we already know what a refurbished Galaxy Note7 will look like. The only change we're expecting is the battery capacity (thus far 3,200mAh seems likely) and the price (duh!).
However we have to point out a few suspicious bits about the leak - first the boot screen lists "Samsung Galaxy Note7" message and not Note7R or Note FE. Second there's an R on the back of the leaked phone but it seems out of place and photoshopped. The fact that the source of the leak has removed his original tweet suggests it might be the real deal, though.
D
I used note 5 for 3 months almost..Retina scan is just useless..
g
It is not just a pen. It is deeply integrated to TouchWiz​. And there is retina scan. It's definitely not for you since you never used a note.
D
Other than S-pen..what other features??