Gboard for iOS update adds voice typing, new emoji and Google Doodles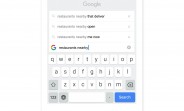 Google has updated the Gboard app for iOS. For starters there is now support for 15 additional languages, including Croatian, Czech, Danish, Dutch, Finnish, Greek, Polish, Romanian, Swedish, Catalan, Hungarian, Malay, Russian, Latin American Spanish, and Turkish.
Voice typing has also been included and now you can just tap a button to dictate messages.
Google has also implemented Google Doodle support so now the Google logo above the keyboard will change design if there's a special occasion.
Lastly, the latest update also brings support for the Unicode 9.0 emoji that were added in iOS in the last update.
r
No, it doesn't have Arabic. There is a proof for you. Arabic listed among SOON. http://i.imgur.com/IkJk4tn.png They brought few languages after all with this update. But Russian one is messed up. Hard signed is dubbed, yet no dot and comma.
D
Arabic is already supported. I have been using Gboard for three months now and Arabic is woking absolutely fine