Geekbench shows the Pixel 3 Lite XL may be the first with 6GB of RAM
The Pixel 3 Lite XL has been spotted in Geekbench and it's powered by a Snapdragon 710. That would make it slightly faster than the Pixel 3 Lite, which was seen with Snapdragon 670.
It gets better – the benchmark reports 6GB of RAM. That's more than any Pixel to date. The Pixel 3 and 3 XL have 4GB and (according to leaks) the Pixel 3 Lite will also have 4GB.
The Snapdragon 710 and 670 are both 10nm chips and have nearly identical hardware. Both have two A75-derived cores (at 2.2GHz and 2.0GHz, respectively) and six A55-derived cores (both at 1.7GHz). The extra 2 gigs of RAM might make more of a difference in day to day performance.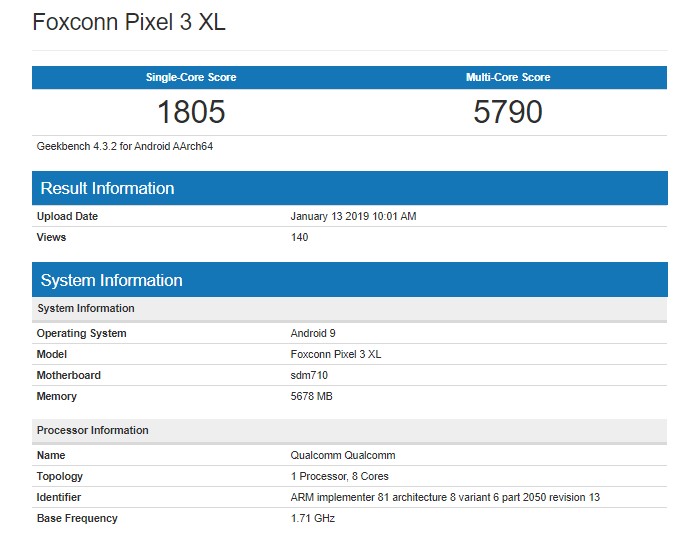 Earlier info on the Lite models shows that the Pixel 3 Lite XL will have a 6" screen (LCD) with 1080p+ resolution. And look at the renders below, they are missing something big.
The Google Pixel 3 Lite has been spotted in the wild at least three times, but the XL version has been elusive so far.
There's still no info, official or otherwise, on when the Pixel 3 Lite duo will be unveiled or how much it will cost.
?
Oh come on Google even the iPhone XR uses the same A12 processor as its big brother, this is pathetic.
?
"Oh, and more RAM on Lite model than flagship, that's funny :-)" It's comparable to the batteries on midrangers are often beefier that flagships, despite flagships carrying more features.