Geeksphone has started taking pre-orders for the Peak+ Firefox-powered phone. Geeksphone typically makes phones targeted at devs or tech savvy enthusiast, but says the Peak+ is also ready for consumers.
It's a small upgrade over the regular Peak – the RAM has been doubled to 1GB and the material used for the exterior has been changed to make it feel better to the touch. The phone will come with Firefox OS 1.1 out of the box, the same version the other two (Peak and Keon) recently got.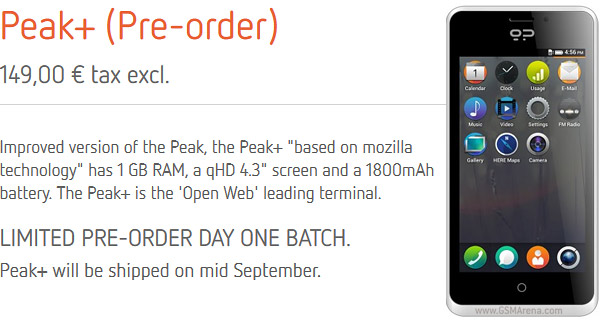 Other than that, you're still getting a Snapdragon 8225 S4 Play chipset (dual-core Cortex-A5 at 1.2GHz, Adreno 203 GPU), 4.3" IPS screen qHD (540 x 960) resolution, 4GB storage plus microSD cards slot and a 1,800mAh battery.
The Geeksphone Peak+ pre-order is at a promo price of €150 ($200), the same as the original Peak. This price will go up slightly after the initial batch of units is sold out (there's no indication what the standard price will be). The original Peak sold out fairly quickly.
If you pre-order now, Geeksphone will ship your Peak+ in mid-September.
Update: We were contacted by a Mozilla spokesperson who wanted to clarify that while based on the Boot to Gecko project, the new smartphone isn't technically a Firefox OS device.
"Today, Geeksphone announced the pre-sale of a new device based on Boot to Gecko technology. We want to clarify that this new phone that was announced is based on Boot to Gecko technology with pre-release software, but is not a certified or supported Firefox OS device."
V
Can you ship the Peak+ also to Greece?
D
Who told u.. only glance feature is not coming to l52x.. except glance whole update wil get all l520 users.. first make clear ur homework then coment dude
?
Usually the first few tries in a new direction for technology are failures, now you have support from the hardware manufactures (including companies like Sony...doesn't this look like the Google model without the Google restrictions on the members?) ...