Both current Nexus handsets have been subject to a lot of promotions and price reductions lately, but this might just be a new record. There is a deal on eBay that you can probably still catch if you hurry and it can land you a brand new LG Nexus 5X for only $199.99.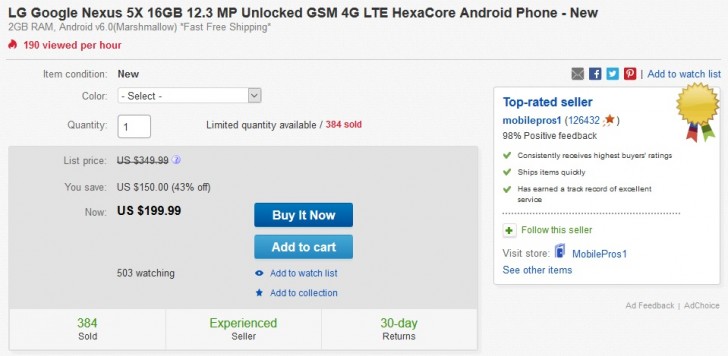 However, there is somewhat of a catch, the device in question is the smaller 16GB model and may we remind you that the Nexus 5X sadly doesn't have a microSD card slot. So, you have to be pretty confident you will fit all your things on board. If you can look past that, it is still a pretty good device with a Snapdragon 808 SoC, 2GB of RAM and probably best of all - guaranteed upgradeability to Android 7.0 Nougat and likely beyond as well.
Be sure to act quick though, as units are moving fast - 384 already gone at the time of writing this article and only the Carbon and Quartz color options still available.
M
They will have to pay me 199$ to use it for a week ... :)
s
verry nice phones ,,for lg,
D
I HATE when that happens, feel so cheated even though I didn't buy anything lol