US cell provider, FreedomPop, promised to give free cell phone use to anyone with a compatible cell phone, however, there was a catch: you could only use 200 minutes a month, 500 texts, and a paltry 500MB of data. Then, youíd get charged an additional 1 cent per minute of calls and 2.5 cents per megabyte of data that you used.
Well, FreedomPop is allowing users to bypass all of that with their new $20 Unlimited Everything plan with LTE data. Sounds like a great deal, but there are a few things you need to consider.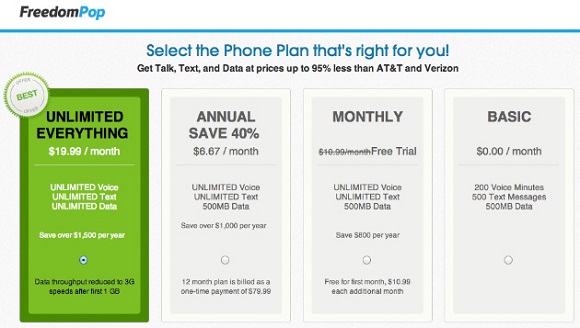 First, itís on Sprintís network, which isnít known for its overwhelmingly broad coverage or particularly fast data speeds. Also, youíll be getting only 1GB of LTE data, after you burn through that, you will have unlimited data, but it will be relegated to Sprintís 3G speeds. You will get unlimited text and talk for $20, which is still a pretty good deal.
Also, there are only four phones on FreedomPopís network that are LTE compatible: The Galaxy S4, SIII, the Samsung Victory 4G LTE, and the iPhone 5.
Not exactly on the forefront of mobile technology.
Still, it is a pretty good option for someone who doesnít use that much data and stays in an area where Sprintís network is strong.
b
Romania - Cosmote: 15 euros (vat included) - Unlimited minutes national and international, unlimited SMS, unlimited traffic.
3
You are wrong buddy, as a current Three UK employee I can confirm, there is no FUP for data. Even while using LTE you can use any no. of GB's I myself have come across contracts where usage for last 6 months has been 200+ GB per month Regards
Q
Do you mean you live in South America? Lol