GFX Bench: Sony H3213 Avenger could be the first Xperia with a dual camera
Sony is one of the few makers still to adopt the dual camera, but that may soon change with a mid-range device – the Sony Xperia H3213 Avenger. Unfortunately, awesome as it is this is just the code name. We think this could be an XA Ultra device.
The phone sports a 16MP + 8MP camera on the front capable of 4K video capture. The rear camera seems fairly impressive too – a single 21MP sensor that also does 4K video.
Why is not a future flagship then? It's the Snapdragon 630 chipset paired to 4GB of RAM and 32GB storage. That's solid foundation for a mid-ranger, but it's not going to compete with 2018 top dogs.
On the plus side, you'll get Android 8.0 Oreo out of the box. Sony is ahead of most of the competition in that respect.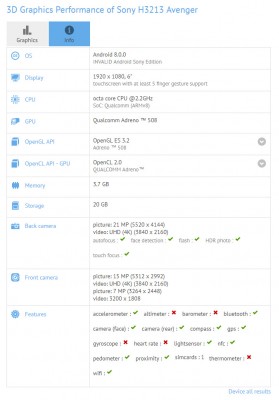 Specs for the Sony H3213 Avenger (by GFX Bench)
The screen is a 6" panel with 1080p resolution. 18:9 screens is another thing that Sony is yet to adopt (well, that could change soon). It's this screen, along with the chipset, that suggests to us that this is a new Ultra model coming to the XA range. "When" and "how much" are questions to be answered another day.
D
Care to provide a link or anything else that can tell us otherwise?
J
True, have you heard of Rugged Notebooks or laptops? That's how they were... big like a duster, rugged and so it was waterproofed. It was not at all convenient to carry around. That's where sony showed up, We were all delighted to see a design so goo...
I
Why DO WE EVEN NEED 2 cameras on the front? I mean in this industry there have been some pretty dumb ideas, like the speaker position on the Nokia N-Gage or the iPhone SE... but TWO cameras ON FRONT? Really, no point other than really scanni...
ADVERTISEMENTS