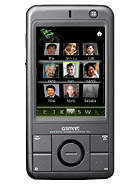 m
it is a awesome phone. i just upgraded rom from 6.1 to 6.5. camera is super great, intel processor, extremely good gps,good touch screen response, ability of install all third party software's.

using from last 1.5 years ans still workinng as charm. Great mobile can't express in words. u do not need any computer or laptop if u have this phone simply amazing
?
I use it for 1,5 years. The functions are good. But reliability is a huge problem. It may turn off, freeze, discharge unpredictably. And of course Windows Mobile is terribly outdated and user-unfriendly. Need to switch to Android.
N
Super Duper cell phone. Simply amazed with the hardware that is provided. One can download good software from freeware websites and make this device perform to optimum, Its simply A class product. Go for it.
B
I am using this for the last 4 months, and am really impressed. Some of the features, which I am really impressed are 'ability to use this as a wifi modem', net connectivity through EDGE, supports GPS and so on. User friendly external buttons inaddition to touch screen.....Great phone
t
camera is a great dissapointment, is a very low-end, I don't think it is a really 3,2 mpx, no flash. except of that, it is a good phone, at a very good price.
Total of 9 user reviews and opinions for Gigabyte GSmart MW702.