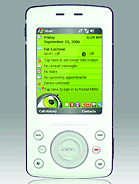 f
i want to kno if u can use this phone with t mobile with internet ????
s
Sure it can play avi,mpeg4 and specially wmv! ;) Phone running on windows
S
This phone got the best specs of all others on this site!!! And having VGA screen is just brilliant!
Poor screen on N95 its the thing which put me off
b

WOOOW! nice phone, no, nice is not enough, but i could not say the best there is, coz i know gigabyte would make sure this is not the last phone that would ROCK the world! my only comment is that why only one color and design? i always prefer dark-colored phones, hope they'll have a black t600..
?
I forgot to mantion the VGA screen! y, it's not 3 and above inches, but when it's vga no matters ~0.2" less dimantion! The decision to make the stylus as an antena is jjsut brilliant.. Gigabyte shows it's power more and more.. despite the non-world-wide selling because of complex problems and competition not wanting it around it's models..
?
And now who is the best?!
3G?! Do you use 3G?!? Do you recieve much much much bigger speeds with the more expensive 3G data transfer?! The difference is not so big! GPRS is quite enough for web browsing with this sweety.. When you have both analog and digital TV recipiant on board+worldwide radio reception, in this classy desighn, colors etc+wm6 pro+wi-fi and so on.. What do you need more? Video call trough 3G?! How many of all of you use video call?! Almost no one! So.. for people not searching exactly 3g pda, this is just the best of the rest! No doubt!
y
dear gigabyte,
can i know about tv & radio for g-smart t600?can dvb-h/t tv broadcast receiver full function in malaysia and all country.i mean can i watch all tv channel and record? is t-dmb radio same with fm radio.can it be tune in every country.when g-smart t600 will be release in the market?where can i buy in malaysia? thank you very much
[
Keep it up GigaByte

Make it , Make it , But Dont SELL IT
Just like you did with i120 "Everyone is Still Searching it(i120) & NO-ONE is GETTING IT"

your products are famous as Vapourwares in my country(india),i dont think their is a single importer of gigabyte mobiles in india

i told you last time too(in i120 user opinions) about marketing in INDIA and all other users requested you to promote your products in their respective countries too, But you Dissatisfied All of your to-be clients

Please dont take it in wrong sense

"Yor Techonology reaches to our Hearts"
"But it NEVER reaches to our HANDS"


T
No 3G! what we're gonna do with this device? 3g is becoming standard so this device will not have a chance in the market.
Total of 54 user reviews and opinions for Gigabyte GSmart t600.