Today at the MWC 2015, Gionee unveiled the Elife S7, a phone with a complicated design that focuses on being thin and running cool, and boasts long battery life. It's not the thinnest yet, but at 5.5mm, it's impressive enough. It's among the thinnest dual-SIM phones.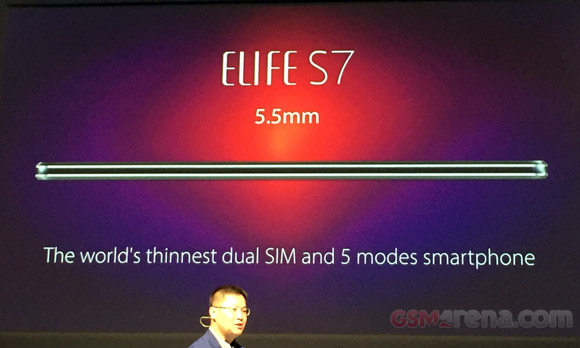 The body has grooved sides, something Gionee calls a U-shaped skeleton. The frame is made of aviation-grade alloy and features a stainless steel sheet with nano-molding plastic.
The company studied which apps use the most power and found that people spend 100 minutes on average on IM clients, which end up using over a third of the total power draw. The 2,750mAh battery of the Gionee Elife S7 is aided by a number power-saving features.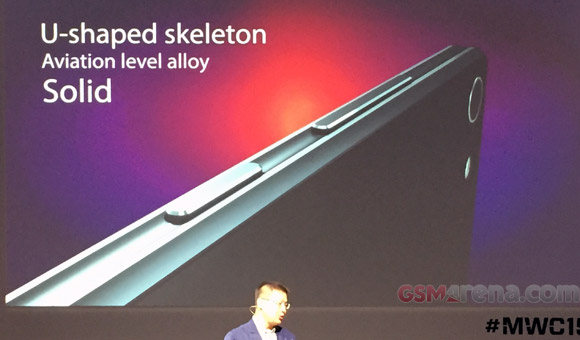 The 5.2" AMOLED display with 1080p resolution uses ACL tech, which promises to reduce power usage by 25%. There's also a Dark theme, which further drops power draw by 30% compared to the default theme. A new Sensor Hub (courtesy of Freescale) has been integrated into the chipset to collect sensor data, so that the CPU has to wake up 20% less often and do that itself.
All told, Gionee estimates it has improved battery life by 32% and the phone should go for two days. There's Extreme mode for emergencies, which restricts phone features and gives you 33 hours of standby on just 10% charge.
The Elife S7 will launch with Android 5.0 Lollipop running on a MediaTek MT6752 chipset. It's made up of a 64-bit processor with eight 1.7GHz Cortex-A53 cores and Mali-T760 GPU. There's 2GB of RAM and 16GB built-in storage. A number of cooling areas and heat radiation materials keep the phone running cooler than the competition, says Gionee.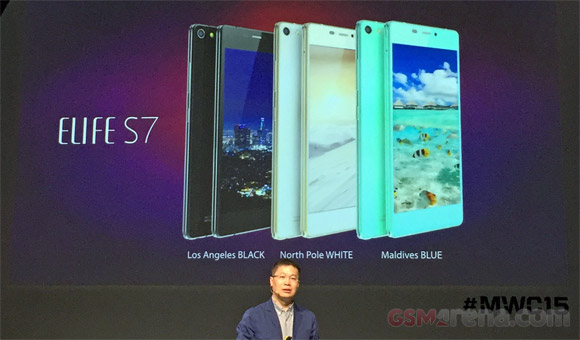 Another point of pride is the camera – by using the thinnest 13MP module, the camera is flush whit the back. "Tim Cook followers" were explicitly called out for protruding cameras. Gionee has tuned the camera to focus in 300ms and capture the shot in 500ms. The phone also an 8MP selfie camera.
The Gionee Elife S7 boasts a larger speaker than its competition, which is powered by NXP for a 50% boost in volume. There's also DTS audio enhancement.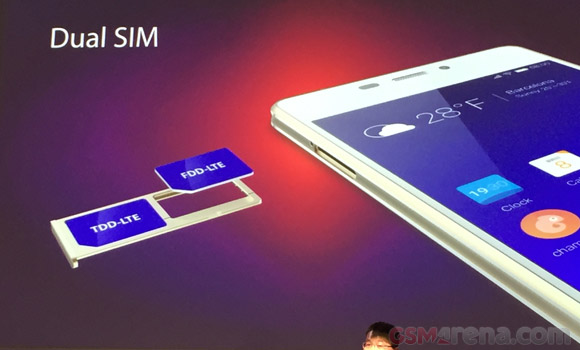 There is SIM tray that fits two SIM cards. The phone supports GSM 2G, 3G (international and Chinese) and two 4G LTE flavors.
The Gionee Elife S7 will launch in Macau on March 18th and India on April 3 for €400. Color options include Los Angeles Black, North Pole White and Maldives Blue.
T
last few days before my Gionee S7 charging long time for full charge. I need quickly charging. Please give me quick solution. Thank you
p
ROM is minimm 32 GB 16 maximum low space
g
I read it's only going to be exclusively available in Europe and Asia. That's incredibly unfortunate as they could probably sell oodles in NAM. I don't understand this?