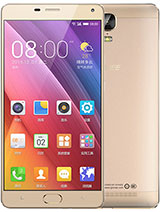 C1784124
This phone is tottaly overpriced. Its specs doesnt match the price.
G312
Why did they steal the Asus wallpaper. I mean come on at least be original for the wallpapers
I
Excellent specs.. I think Screen will b more attractive with AMOLED 368ppi.. And performance of 3gb RAM, 64gb internal memory n 5020mah battery.. But heavy weight phone with 6" large screen..
Excluding the disadvantages ..this phone is awesome with its features..its should be around Rs.20000/- of cost.
P
I want to know if this phone has protection and infra red also. And again why is it that the battery is not up to 6020mAh because of the big Screen. Is it available in Nigeria?
M
divis200, 22 Dec 2015But the price for these specs is also "awesome".Nice Mo.. To
459
328
jes, 22 Dec 2015the look is moore on samsung and Iphone, and the internal memory is awesome,,But the price for these specs is also "awesome".
Total of 287 user reviews and opinions for Gionee Marathon M5 Plus.