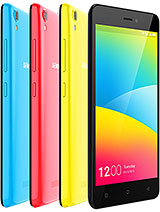 D
Phil , 13 Jan 2016Hi! pls can anyone help me, I just got a new gionee p5w, but the problem is I can't read my un... moreIn What price did you bought that phone. and plz mention country too :)

P
Hi! pls can anyone help me, I just got a new gionee p5w, but the problem is I can't read my unread messages and I can't find the call log. Can anyone help me figure out how to get it done?

o
Exp. release 2015, January?

2015 or 2016?
S
The handset specification is very cheap.
The handset has only 5MP rear camera.
Why we are buy this cheap phone .
Cheap brand,cheap handset,cheap specification and high price.
I never suggest if buy this phone.
M
This seems like a copy of the iPhone 5c! Look at the color scheme!
O
Over 150g for a 5", 2000mAh phone? My 2-yr old Alcatel Idol X with the same spec battery is only 120g.
D
A very cheap phone with nice specs for its price. And of course great 16gb internal memory.
Total of 467 user reviews and opinions for Gionee Pioneer P5W.