Gartner: Samsung and Apple still top 2 in Q1, but Huawei closes the gap
Global smartphone sales jumped to 380 million devices in Q1 2017. The number marks a 9% rise from the same period in 2016, according to analyst company Gartner. Samsung and Apple keep their top positions, but Chinese companies Huawei, Oppo, and vivo are accountable for almost a quarter of all global sales.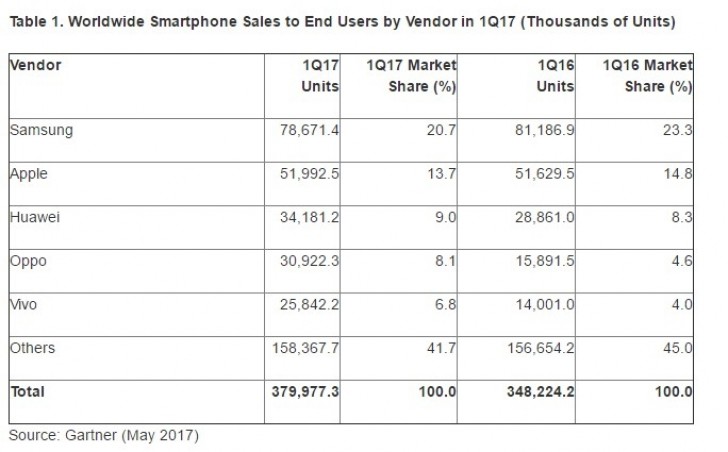 Samsung still leads comfortably, but experienced a decline in amount of devices shipped due to the discontinued Galaxy Note7. Apple is the second, but its sales remained flat, which meant it lost ground in the growing market.
The following three companies all grew handsomely with Huawei reducing its deficit to Apple from 6.5 to 4.7 percentage points.
Oppo managed to achieve a 94.6% increase in shipments and missed the third place by a margin of 250,000 units or 0.9 percentage points.
vivo sold almost 26 million devices between January and March and holds the fifth place with a 6.8% market share. According to Gartner, "Vivo saw growing demand of its smartphones from the emerging markets in Asia/Pacific, including India, where sales grew over 220 percent thanks to its increased brand appeal".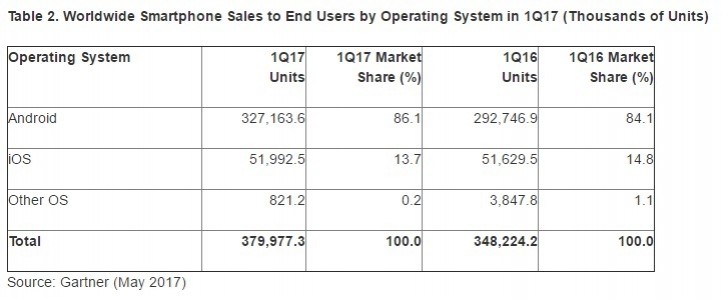 Analysts also published distribution of worldwide smartphone sales by OS. Android is still the top operating system with 86.1% of the devices, while iOS accounts for 13.7%. Other platforms only contributed 0.2% of the sales.
D
Neither did you :) guess you're one to. One thing is for sure, if I did know how to make 960fps slo-mo video I would be smart enough to make them go longer than a few puny seconds, lol. What a useless feature
U
To call someone or something an idiot means you know more things than them. I doubt you even knew how to make a 960fps Slow Motion-recording smartphone. Lol
D
They are idiots indeed, that's why they sell less phones and have next to no market share.