Europeans have consumed an average of 2.4GB of mobile data per SIM in 2017 - based on GlobalData's research.
Among Europeans, the Finnish are in the lead, using an average of 13.3GB per SIM, which is more than twice as much as the runner-up Austrians, which use 5.7GB per SIM. The Polish (3.7GB) and Russians (3.5GB) are also among the top in terms of mobile data usage.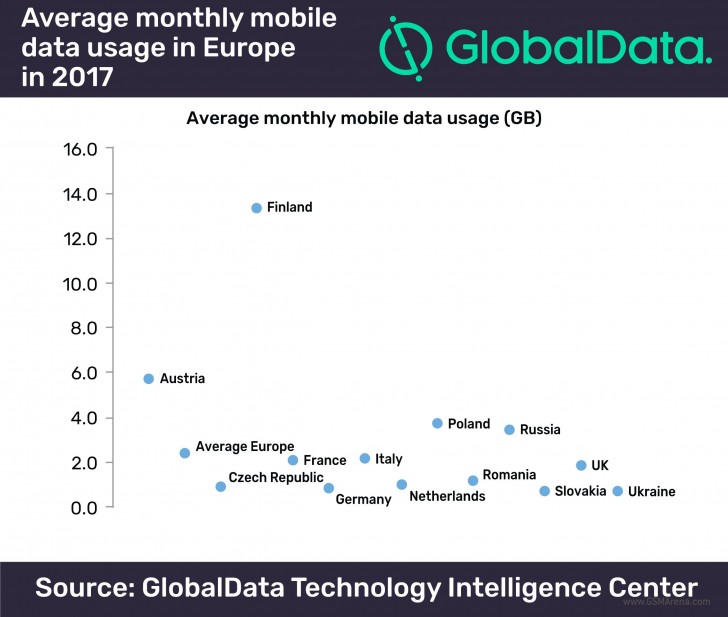 On the opposite side are Ukraine, Slovakia, the Czech Republic and Germany, where average mobile usage per SIM is lower than 1GB. Ukraine started to deploy 3G networks in the not so distant 2015 and is yet to deploy 4G, which does put it at a disadvantage.
Countries such as the UK and France see their average being pulled down by M2M type cards, which generally have less monthly data and use less than 300MB per month, on average.
In Serbia , for 8€ you have 10 GB/m, 3,2€ 1GB/m, 2,5€ 10GB/w or varius combination in prepaid. In postpad, basic offer is unlimited voice and sms, 2 GB for about 8,3€/m. All is in 4G.
I stay in south korea as well.. But I have never seen somebody with as superiority complex as yours.. You can't be from either of korea or japan. as people here aren't like you. At-least I haven'e seen someone in entire college and neighborhood like ...
I dont know whatever you ranting about. What does couch slouch have to do with this survey? Very interesting how you call people that while you use 100mbps wifi and buy LTE internet. Who exactly the couch slouch that couldnt get enough of data here? ...