Starting today, you can send and receive money through the Gmail app for Android. This works because of a tie-in with Google Wallet, which was previously only available in the web version of Gmail.
To use Google Wallet for sending money to a friend, just tap on the attachment icon when composing a message to him or her in Gmail, then select Send money, choose the amount in the Google Wallet pop-up that appears, and send the message. The payment will be shown as if it's an attachment in your email. You can use almost the exact same steps to request money, though you obviously need to pick that option after tapping the attachment icon.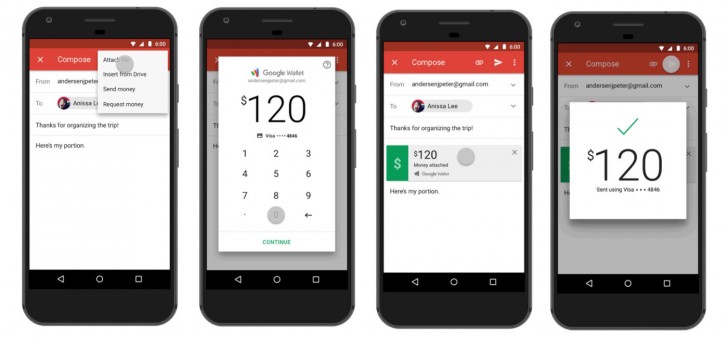 The main caveat here? Aside from this only working in Gmail for web and for Android at the moment? Well, the functionality is geo-restricted, as you'd expect from almost any new Google service. For now it's available just in the US and UK. And needless to say, there have been absolutely no details about whether it will ever launch in other countries. Anyway, if you're in the US you can send money that's in your Google Wallet balance, on your debit card, or in your bank account linked to Google Wallet. In the UK you only get the first two of those options.
?
Never trust a device that runs Google apps (or is made by Google) with money, bank accounts, personal information or account info. When using an Android device you should: 1) create a bogus gmail account just so you can use the PlayStore 2) ...
D
Me too and I feel left appart
ADVERTISEMENTS