Google has announced that its e-mail service Gmail will soon start blocking JavaScript (.js) file attachments, expanding its list of restricted attachment types that currently includes .exe, .msc, and .bat files. The restriction will come into effect February 13 onwards.
"Similar to other restricted file attachments, you will not be able to attach a .js file and an in-product warning will appear, explaining the reason why," the search giant said.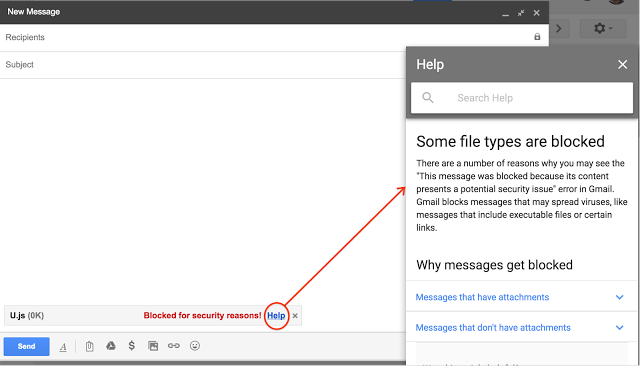 The decision to block JavaScript file attachments has been taken keeping in mind security reasons (JavaScript files can easily run executables, a trick commonly used by computer hackers).
However, in case you have legitimate reasons for sending such a file, Google suggests you use Google Drive, Google Cloud Storage, or other storage solutions to share the file.
?
and this is why these files are restricted...
D
I can't comment on that as I haven't tested that. Sharing it via Drive is way simpler for me because not all my contacts are so familiar with Application softwares. Will try this next time I am in need to send such a file.