The Huawei-made Nexus 6P is now $50 off at BestBuy, following Google's identical price cut in its own store. The offer is valid for the Gold color option, and applies to both the 32GB and 64GB versions.
The base model now costs $449.99, while double the storage comes at $499.99. If you want the top model with 128GB, however, you're stuck with one of the other color options, and neither Graphite nor Aluminum gets the discount, so you'd be paying the full $649.99.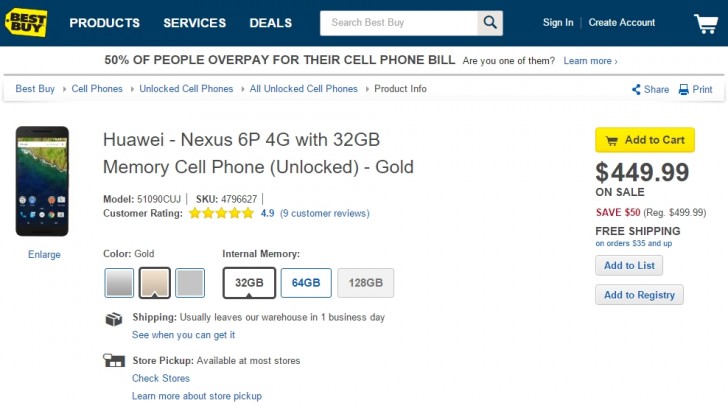 If you do decide to take advantage of the offer and get a Gold Nexus 6P, BestBuy will also throw in a $25 gift card. It's worth mentioning that while $50 off is a nice deal, the Nexuses often get similar discounts, so if you miss this promo, there may very well be another one down the road.
D
Lol Samsung lover, pathetic
D
I'll wait and get the Samsung Galaxy S7 Edge with 820 inside.
D
Because for a lot people, the 810 is just good enough and they don't care about other phones haven more power? If you want a fast phone with smooth and snappy software, a good camera, nice amoled screen and unique design - you go with the nexus 6p. Y...