Google acknowledges lens flare on Pixel camera, expect a fix "in the next few weeks"
There is a real sense of community with Google Pixel and Android users alike. A redditor took to Google's Product Forums and posted about something that has been reported several times among many Redditors. Many Pixel users are noticing that the camera is easily susceptible to lens flare, or the "halo effect" that you can see when the sun or a light source hits the camera at a specific angle.
Now, all cameras, no matter the size or cost, are prone to lens flare. But the frequency of the flares were too often for some users who are demanding a fix.
More Halo action pic.twitter.com/xXv4b3QUoV

— Danny Winget (@superscientific) October 22, 2016
Google was quick to reply, it only took "a Googler" (someone from Google) less than two hours to reply to the post. IsaacOnCamera acknowledged the issue, explains why it is happening, and mentions that we can expect an update for the issue to be resolved via a software update.
"The Pixel camera's lens structure is very highly controlled – this means that all Pixels take high-quality images, but it also means all Pixels have the same flare characteristics."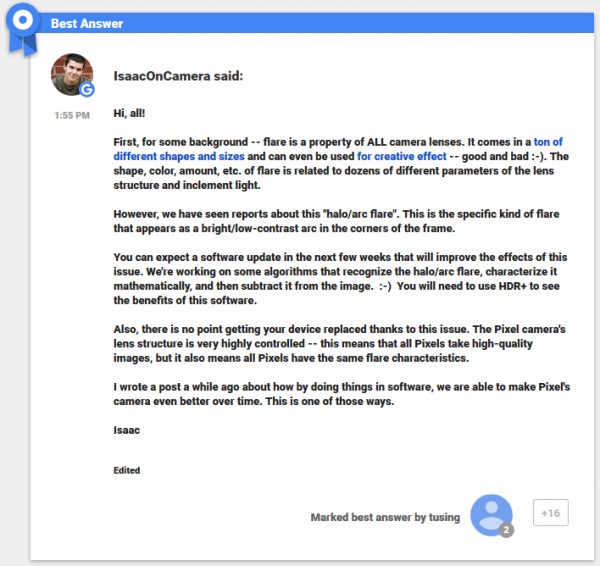 The issue needs to be resolved with an algorithm. Isaac says Google is already working on fixing the arc/halo/flare from appearing in final photos. This new algorithm needs to be worked into HDR+ and will mathematically subtract the flare from appearing in the resulting photo. So, yes, you'll need to use HDR+ for the lens flare fix.
?
da problem is it only on gp and not in gp xl right ?
?
I'd bet that the hardware lens is shaped the way it is for improvement in other areas, but it's a tradeoff. The software fix obviously won't change the hardware, but they want to retain the advantages their lens shape gives and negate the bad outcome...
?
glad i waited and didn't buy this or pre-order. 1st they 'ran out of time' to add IP67 rating features.. then the camera with the hardware fault... makes me wonder whats next to be reported as an issue since they obviosuly 'ran out of time' to f...