During the earnings call today, Google announced some big numbers. They made a lot of cash, but more interestingly (for us) Android is growing faster and faster - 550 thousand devices get activated each day, which is crazy when you consider that the number was 500 thousand just a couple of weeks ago.
The total number of Androids has reached 135 million and at this rate it will cross 200 million well before the year is out. In the past quarter, the number of activations per day grew by about 4.4% each week. The number is from a couple of weeks ago, it's closer to 5% now. And other interesting stats show there are 400 different Android models out there.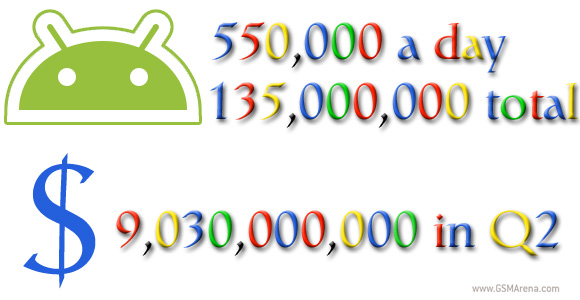 The number of apps accessible by droids in the Market has reached 250,000 and the Market has handled 6 billion app downloads so far (a 4.5 billion number was reported just a few weeks ago, so either one number is wrong or the download rate is humongous). That makes for 44-45 app downloads per device on average. And that's a lot - really sounds unbelievable.
Q2 of 2011 turned out to be a good quarter for Google as a whole, not just Android. Its revenue reached $9.03 billion, a whopping 32% increase compared to Q2 of last year. Operating income for the second quarter of this year about a third of revenue, $2.88 billion, and net income was $2.51 billion (up from $1.84 billion in Q2 of 2010).
Google's ad services are going strong - the number of paid clicks went up 18% Quarter on Quarter (QoQ) and cost-per-click went up 12% QoQ. Google shared 24% of its revenue ($2.11 billion) with its partners, most of which went to the AdSense partners ($1.75 billion).
Source 1
•
Source 2
G
"That makes for 44-45 app downloads per device on average. And that's a lot - really sounds unbelievable." I have 73 app downloaded on my Galaxy S
s
i am so freakin happy that google is doing well
ADVERTISEMENTS