Google adds option to approve login verification through Android or iOS device
Google has offered 2-step verification for a while now. There are multiple ways of approving login but they all involved entering code from one thing to another manually.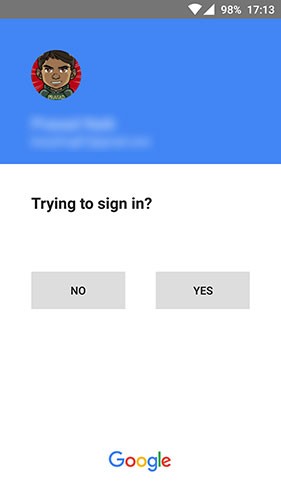 Google has now added the option to allow you to approve login on another device from your primary smartphone or tablet. You will have to set up one of your devices for this. It could be an Android device, in which case you don't have to do much on the device side, or an iOS device, where you will have to install the Google app. You can then select the device from the dropdown list in your Google account settings and you will get a prompt on your device, after which it becomes your default device.
Once you have your device setup, every time you try to login to another device with your Google account, you will get a prompt on your Android device or within the Google app on your iOS device to approve or disapprove the login. If you choose to approve it, you don't need to enter any codes on the new device.
You can set this up by going to your My Account page > Signing into Google > 2-Step Verification.
Just configured it to use my Note5. Work like a charm. Great, useful, feature!
Z
I have been using it since a month and it is really handy