That's it folks, the HTC-made T-Mobile G1 is now official with pre-orders due to open over at the dedicated T-Mobile website. The device will start shipping in US stores as of 22nd October and will be selling for 179 US dollars with two-year voice and data contract.
T-Mobile will be offering obligatory voice and messaging plans for the G1 priced at 25 (unlimited data, limited msg) and 35 US dollars (unlimited data and msg) on top of their regular voice plans. The G1 is SIM-locked and it won't be available with a prepaid service.
The T-Mobile G1 will also be available in the UK beginning in November, and across T-Mobile's European markets (Germany, Austria, Czech Republic and the Netherlands) in Q1 2009. European pricing is not yet known but we guess it has to be competitive to the one of the iPhone 3G.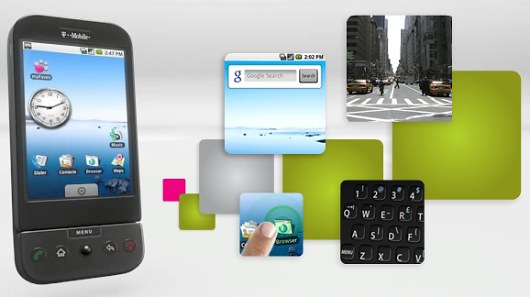 Hardware-wise the T-Mobile G1 sports a 3.2-inch display touchscreen display, QWERTY keyboard, quad-band GSM/EDGE and dual-band UMTS support, GPS, Wi-Fi and a built-in accelerometer. We already mentioned that the camera won't support video recording and the Bluetooth support will be limited to mono headset use only (no stereo and no file transfers). The Bluetooth functionality will be enhanced later on.
The software part of the T-Mobile G1 is much more interesting as it's the first Android device to see daylight. The G1 will make use of all Google online services such as Gmail (with push support), YouTube, Google Talk, Google Maps with Street View, AmazonMP3 marketplace for affordable DRM-free tracks and finally, Google's own Android Market, which would supply the handset with third-party applications over-the-air. A unique feature to the G1 is the embedded compass, which syncs with Maps Street View allowing live 360-degree cityscape browsing just by turning the handset around.
At this stage the T-Mobile G1 lacks MS Exchange support, but doors are opened to third-party developers. There's also no desktop synchronization client, syncing is only possible to Google online services such as Gmail, Calendar and etc.
All in all, the T-Mobile G1 is disappointing - while the Android OS sounds like a powerful base, its first implementation fails to impress. The G1 has a low-key SideKick inspired design and lacks some key contemporary features such as Bluetooth file transfers and video recording.
So we waited a whole year now just to see a poor iPhone replica with a QWERTY keyboard that doesn't even look half as good. It seems HTC have not put any effort in the design - and even the functionality is flawed. So thanks, but no thanks! Let's see the next one, please!
k
this fone is nt so good as people require lot more than wht U have in this fone.the features R say incomplete.the bluetooth & the camera quality is nt so good.I want a fone tht supports video recording & video calling, it shuld also have a good sound...
?
we do appretiate tht U work for T-mobile, however it's nt U who has manufactured this fone & U do nt have tht authority off taking the whole credit of this fone.stop cribbing & wait for sum time.let the people use the fone ,hopefully U get a positive...
B
I work for T-Mobile and I have been waiting for this phone fr months, the problem is this site always rips our phones and now that we finally have the best phone out they still wont give it credit. The design makes the phone. I hated trying to type o...
ADVERTISEMENTS