Google is keenly working on Project Ara, a new endeavor to build a modular smartphone, which was started while Motorola was part of the company, and Google has scheduled an Ara Developers' Conference on April 15-16.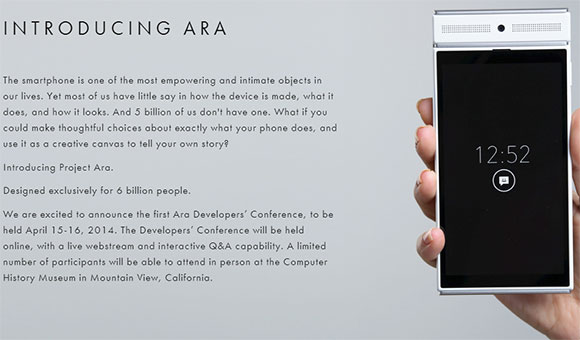 The event will take place in Mountain View, California, and will be streamed online to the whole world. In fact, Google claims that Project Ara is designed for 6 billion people. This indicates that Android maker may be working on a highly affordable modular phone for the masses.
However, everything surrounding Ara has been kept under strict secrecy and nothing has leaked so far.
Google reveals that it has its focus on releasing an alpha version of the Ara Module Developers' Kit (MDK), which will hit the web as a free and open platform specification reference. It will guide and contain developers through everything that's necessary to get them familiar on how to develop an Ara module.
The company wants developers and companies of "all shapes and sizes" to give project Ara a whirl. We'll see what Google has got in store for its modular phone concept in mid-April.
Source • Source (2) | Via
S
I heard google bought the phoneblok patent in another article.
D
You weren't the only one. Same way laptops & mostly desktops can be customized also for phones.
D
I think PhoneBlok (The Concept), Motorola (The Hardware & Kickstarter) and Google are actually working together to make this Idea come true. GSMarena poster didn't mention that, I thought Google stole PhoneBlok idea too, but more needs to pu...