At the annual Google I/O developer conference today, Google has announced the planned released of a Samsung Galaxy S4 running stock Android (AOSP).
Just as rumored earlier today, the phone will be free of TouchWiz modifications. It will be selling directly through Google Play and it will enjoy timely Android updates just like all Nexus devices. Best of all, it will have an unlocked bootloader for that extra flexibility.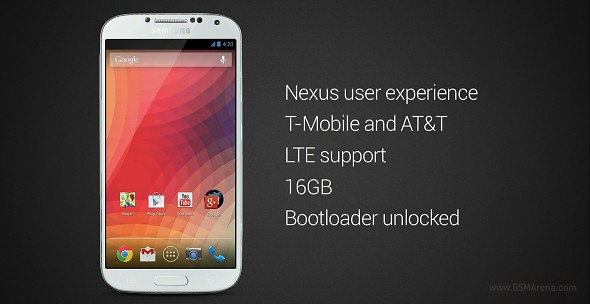 This Google edition of the Galaxy S4 will be selling in the US starting from June 26 without a contract and with no carrier subsidy. The retail price will be $649 and it will work on both the AT&T and T-Mobile US networks (LTE included).
So far we don't know whether there are some changes in specs. We suppose that at least the proprietary "smart" software features designed by Samsung will be gone along with TouchWiz. For now we've been able to only confirm the 16GB of built-in storage along with a microSD slot to expand those.
?
Samsung cameras definetly two classes above HTC.
?
You are talking in riddles....
n
you said you never used a stock before,, and now your telling that you used it and it sucks.?. LIAR
ADVERTISEMENTS