Google Chrome for Android soon to get a new Explore UI when opening a new tab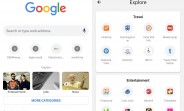 Google is testing a new "Explore" feature on its Android Chrome app and the good news is that you can test it out by yourself without needing to install Chrome Beta or Chrome Canary. The feature introduces a new layout when opening a new tab that will help you explore topics and websites based on your interests and browsing history. Here's how it looks.
If you want to get it too, just head over to your Chrome app for Android, open a new tab, type in chrome://flags and search for the "Explore websites" flag. It should be set to "default" so change it to "enabled" and re-launch the app. Then, upon opening a new tab, you will be greeted with suggestions for articles that might be of interest to you and also tons of topics to explore. For now, the feature seems more relevant to Indian users, though its regional reach could expand.
Actually Xperia UI is better than original android stock version, because it can apply theme and now the XZ3 even better it has AI side sense to manage the app drawer in the most intelligence way and the Side sense and for camera situation, Double ta...
A
The design is really terrible and unorganized. Jap cannot do UI job properly, like what they have done to xperia with its dully old unartistic ui.
Wow, you have three IP that means you have three lousy phones which unable release the true power of Sleipnir browser correctly, maybe you should chance your phones or you will become a hater or underrated Sleipnir.
ADVERTISEMENTS