Google confirms October 4 event for unveiling of next-gen Pixel smartphones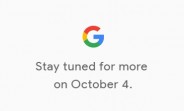 If that billboard which surfaced earlier today still didn't convince you that Google is unveiling the Pixel 2 and Pixel XL2 on October 4, then the company's newly-started teaser campaign for the event really should.
It's posted the video you can see below both on its YouTube channel and on its Twitter feed, and there's a landing page live too - where you can enter your email if you want to get more information about the handsets once they become official.
If you're currently thinking of switching phones, Google thinks you should wait until October 4 and see what it has to offer. And that, at least judging by the teaser video, will be more battery life and better photos than its competitors - with free unlimited cloud storage for them of course.
We're also promised a phone that will understand us (a clear nod to Google Assistant), and one that will update itself in the background. Incidentally, most of these things are already inside the Pixel and Pixel XL from 2016. They're also not slow at all even today - and neither will their successors, naturally.
The timing of this announcement probably isn't coincidental, seeing as how Apple will start taking pre-orders for the new iPhone 8 and iPhone 8 Plus in just a few hours. So this is Google's attempt to make you hold off and consider its next-gen Pixels too.
?
If Google is smart is will price this like iPhone X. 999$ because it is the new norm for flagships this year.
V
If it real quotes from actual people, they should ask just one question, "why I bover to have a phone at all?" :)
ADVERTISEMENTS