Google Dialer 4.2 Beta teardown hints at automatic robocall screening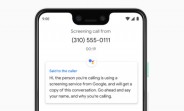 Google's own Dialer app, available on Pixel devices and some Motorola phones, can screen phone calls for you. This means you Google Assistant can answer your phone if you don't recognize the number or if the number is flagged as potential spam. In order to do this, you need to manually ask the dialer to screen the call as it arrives and then read the live transcription to see if the call is worth jumping into.
The Google Dialer might be gaining the ability to automatically screen and decline robocalls. Code discovered in the Dialer 4.2 Beta by XDA-Developers hints at the feature. Phone calls automatically screened and declined would not disturb the recipient and a transcript would become available shortly thereafter.
The strings of code mention things like "automatic call screening", "automatically screen. Decline robocalls", and "silently decline". Twitter user @wongmjane managed to enable the feature before XDA posted the following screenshots.
Given the feature isn't yet implemented, it's probable that it could be added in a future update of the Google Dialer. It isn't necessarily a sure thing since Google hasn't acknowledged the update yet. We're glad to see Google moving towards a world where our time isn't wasted by robocallers.
D
Google spying on you? hahahahahahaha You should pity yourself cos u are not important enough. If an agency wants to spy ; they would do it. No phone on this market can protect u from that ; no matter what u do.
N
Yet another intrusive anti-privacy feature by spy-king Google, so they can monitor who calls you and can have an even more detailed profile of you, on top of the mountain of data they're already recording of you. I pity the fools who are still usin...
?
Days earlier I get electricity plan robocall. Other numbers haw adverting SMS.